What do Ballot Box Scotland Polls Mean?
Ballot Box Scotland run by Allan Faulds has revealed a number of contradictory stories about the state of Scottish politics and coming elections. Two polls tell contradictory tales. The SNP remains ascendant but in paralysis; their hegemony is impenetrable but their strength is diminished by a lack of any discernible strategy. The polling show big changes in Scottish politics while the country is still moribund on the national question that both defines it and puts it into permanent stagnation.
First up, Labour and the Greens are up:
An exclusive poll for Ballot Box Scotland has found that support for Scottish Labour has reached its highest point since before the 2019 UK Election, suggesting the party could once again overtake the Conservatives.
The poll, conducted by Survation from 24 – 28 March 2022, estimates that Labour would receive 23% of the regional list vote and 25% of the constituency vote in a Scottish Parliament election, compared to 19% and 20% for the Conservatives. This poll by Survation on behalf of Ballot Box Scotland shows Labour in their best position since 2018.
Support for the Scottish Greens has increased to 11% on the list, who now poll at record levels.
Given the state of the world it's no surprise that the Greens should be doing well, though arguably they should be doing much much better. Their stint in co-operative government has not harmed them as some had warned. It is disastrous polling for the Scottish Conservatives tainted by their own botched mishandling of the partygate fiasco and their own homemade PR gaffs.
Commenting on the polls, Allan Faulds from Ballot Box Scotland said:
"This poll will put a spring in Anas Sarwar's step, showing Labour at their strongest in years and well-positioned to displace the Conservatives as Scotland's second-largest party. Though Douglas Ross may have hoped the worst of the Lockdown Parties fallout had passed, his party's support is yet to fully recover."
"However the SNP remain the party to beat, with a clear overall lead. Combined with projected growth for the Greens, who continue to poll at record levels, the current co-operative government would easily be re-elected at Holyrood. Whether that government will convince Scots to support Independence is another matter, as this poll adds to a trend showing a consistent, but narrow, preference for the Union."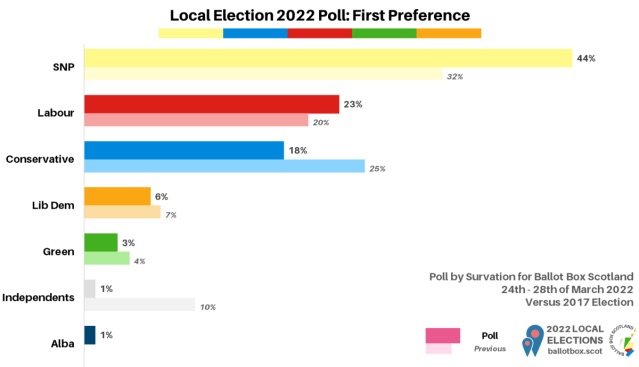 Holyrood List Vote (changes vs 2021 Election):
SNP: 34% (-6)
Labour: 23% (+5)
Conservative: 19% (-4)
Green: 11% (+3)
Lib Dem: 8% (+3)
Alba: 2% (nc)
Holyrood Constituency Vote:
SNP: 46% (-2)
Labour: 25% (+3)
Conservative: 20% (-2)
Lib Dem: 7% (nc)
Westminster Vote (changes vs 2019 Election):
SNP: 45% (nc)
Labour: 27% (+8)
Conservative: 19% (-6)
Lib Dem: 6% (-4)
Second up, the SNP are down but also invincible:
But if the polls show a slight decline in support for the SNP (-6% on the list and -2% on the constituency vote) the next poll shows them on course for massive wins in May.
With one month to go until May's local elections, the exclusive poll for Ballot Box Scotland shows a strong lead for the SNP, potentially putting them on track for a record result.
The poll (conducted by Survation from 24 – 28 March 2022), suggests that 44% of voters would give the SNP their first preference, up from 32% in 2017. 23% would back Labour, 18% the Conservatives, 6% the Lib Dems, 3% the Greens, while both Alba and Independent candidates were on 1%.
Voters were also asked how they would use their second and third preferences. Summed up, a total of 56% of voters said the SNP would feature in their top three picks, slightly ahead of 52% who would do the same for Labour. 37% would put the Greens at least third, 31% the Lib Dems, 27% the Conservatives, and just 7% Independents and Alba. Commenting on the poll, Allan Faulds from Ballot Box Scotland said:
"If these findings are accurate, the SNP are on track to deliver an astonishing record result in May, and Labour would again become the second-largest party at local government level, giving both parties reason to be cheerful. On the other hand, the Conservatives, Lib Dems, Greens and Independents would seem to be headed for worse results, and Alba's support is pretty pitiable."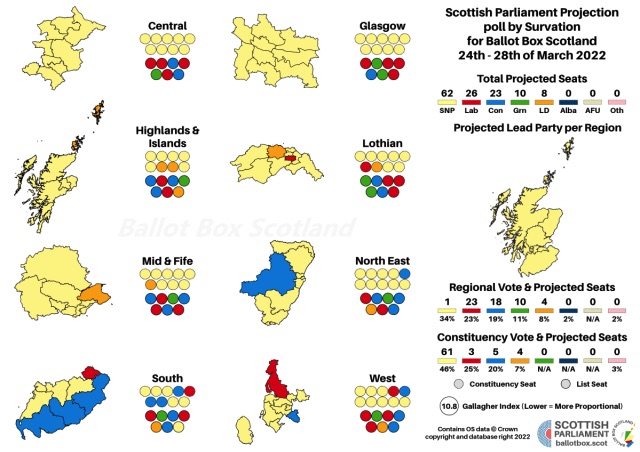 So what does this do? What does this mean? It doesn't end the seeming torpor of Scottish politics.
Douglas Ross will probably be removed and replaced by the next identikit Tory. Anas Sarwar will be cemented but deeply confused. The SNP will remain electorally powerful but constitutionally impotent. These polls are great for Scottish Labour, but to what end its unclear? The Greens position will be greatly enhanced but also constrained within the limits of 'coalition'. The position of the Alba party is in question. Many supporters saw these May elections as their breakthrough moment. If, as these polls suggest they are stuck on around 1% it will be difficult to sustain the fantasy that they are an emergent force. It seems they will dissolve to a tiny faction as those who have hitched themselves to a possible electoral ticket realise that games a bogey.
While the euphemism of the "cost of living" looms and the planet burns Scottish managerialism and centralism would seem to have coalesced. While these polls show reason for great cheer for single electoral parties they do little to hold our positives for our socio-ecological crisis.