Sarwar's Big Idea
Scottish Labour leader Anas Sarwar delivered a 'major speech' about Scotland to the Fabian Society in London today. It was described as "Scottish Labour's first paper on reform of Scotland and the UK."
It was hilarious and confusing with wildly different messages coming from Starmer and Sarwar on the same day. Labour would be simultaneously all about cooperation and harmony while also not talking to anybody about anything. Starmer was explaining how he was going to "make Brexit work" while Sarwar was explaining how he was going to "make Britain work". Both are irredeemable multi-dysfunctional entities, but Sir Keir's English audience and Anas's Scottish one meant they had to pretend otherwise. The key notes were that 'the SNP and the Tories are essentially the same' and 'only Labour can heal and unify'. It was an orgy of meaningless centrism a bland mixture of grand-sounding ideas, that, on closer inspection mean nothing at all.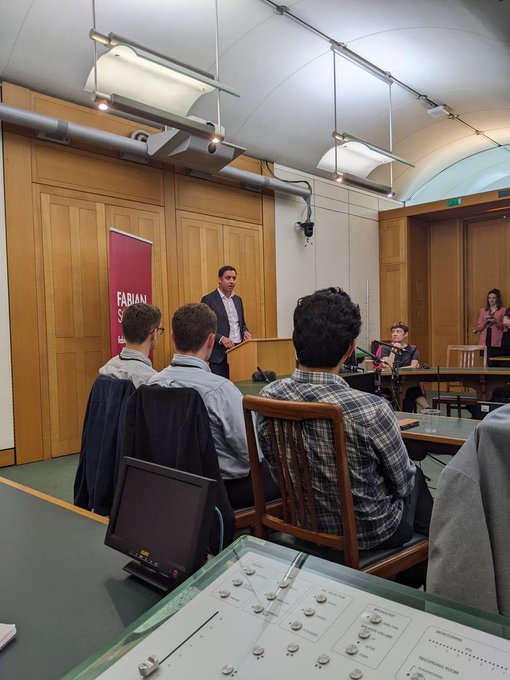 Sarwar said: "Our proposals are guided by the starting point that the UK is a redistributive union, which works in the interests of every community in Scotland, England, Wales and Northern Ireland. Together, we share wealth, risk and opportunities. And the best forms of government empower local communities and do not hoard that power in our parliaments and governments."
This is code. This is broad shoulders stuff. The logic of Labour Unionism is this: "You are poor, you are by your very nature poor. You can only survive by the benevolence of the Union." No-one explains why Scotland should be permanently so impoverished, we just are.
"First, we are proposing a legal duty to cooperate. This would require joint working between governments in areas of shared interest."
This doesn't make any sense and reduces and distils the conflicts of interest between governments and nations into ones that can be 'magicked away' by 'forced cooperation'.
"Secondly, we are proposing new joint governance councils – or whatever we ultimately decide to call them. They would be designed to heal the bad relationship that exists today and provide a constructive forum for dispute resolution. Too often, the current UK government keeps the Scottish government in the dark. And too often the current Scottish government deliberately seeks disagreement with the UK government. This does not lead to good governance – it undermines the union. And the Tories and the SNP do it day in, day out."
This is a false equivalence, the main storyboard of today's announcements.
"Instead, the joint governance councils we are proposing, would be set out in statute and replace the consultative joint ministerial committees which have failed and collapsed. They would be designed so that every nation operates as an equal. They would bring together the leaders of the UK and the nations on an equal footing, with a finance council to explore the economic challenges we collectively face and a trade council to unlock opportunity and growth."
"And thirdly, we propose a fundamental change here in Westminster. The House of Lords, in its current form, as an institution has no place in 21st century politics. It is unacceptable, and has been for far too long, to have unelected representatives wielding such power. The House of Lords must be abolished and replaced with an institution which better reflects the make-up and the identity of the United Kingdom.
"In calling for its abolition, we must recognise the vital role that members of the House of Lords have played as the revising chamber of the UK parliament. We shouldn't forget that it is Labour Lords who have stopped some of the worst excesses of this Tory government."
Wait, what? The House of Lords is both completely unacceptable and undemocratic, but also the Labour Lords are great and vital.
Goddit?!
As Open Democracy's Adam Ramsay observed: "Labour have been promising an elected  House of Lords for over a century."
It was like a big political blancmange of political nonsense. The newly equal nations would meet – and Starmer's "making Brexit work" plan would presumably be imposed, with a "legal duty to co-operate" making it all fine.
Decent People
It seemed like the SNP's announcement last week has unleashed a demented response from the political parties, and the punditry. Alex Cole-Hamilton jumped on the bandwagon thundering: "No new independence referendum even if nationalists win election!" in The Times before a torrent of Op-Eds by people who know little or nothing about Scotland.
In The Telegraph Tim Stanley reckoned: "Scottish devolution was a disaster, and the English are letting the SNP get away with it." His colleague Tom Harris took it further declaring Scotland a "failed state" …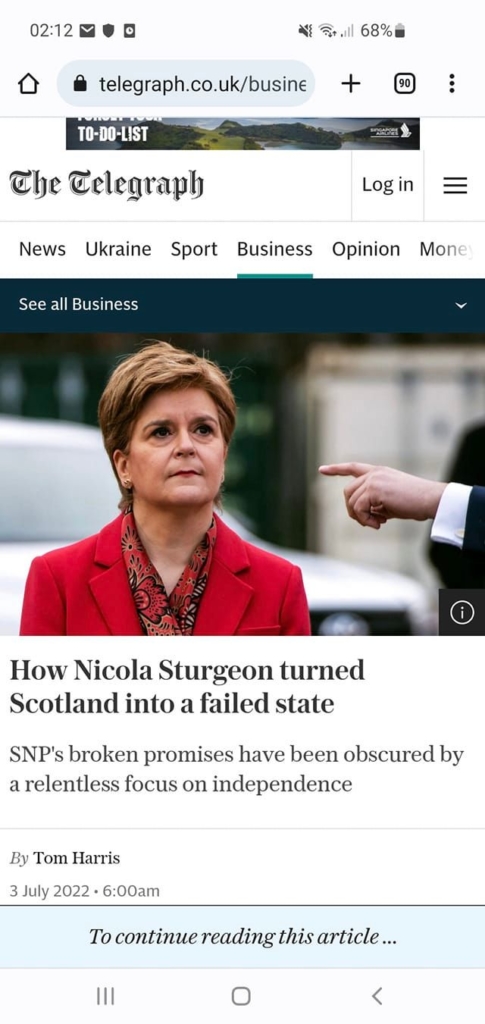 … while Carole Malone over at the Daily Express gushed at the Queen's visit to Edinburgh: "At 96, she looked gorgeous in her lilac coat and hat, she was wreathed in smiles and seemed to be on tip-top form. And, without saying a single word about referendums or independence, she slapped down those nasty Nats who are always screaming that they don't want the Queen in Scotland because "the union is dead".
"But then, they are too thick to realise that every vile insult they spew at the Queen, every glob of bile they heap upon her, will strengthen that union. Decent people will look at those bad-mouthing a woman who has dedicated her life to the British people for 70 years and realise they don't want that rabble running their country. Nicola Sturgeon, of course, must have been livid about the Queen's visit because it entirely overshadowed her announcement about her "pretend" referendum in 2023."
Contradictions
Very little of this held together to be coherent. A central idea, like an old folk-memory nurtured by the pundits was the idea of the SNP 'letting the Tories in'.
Follow the logic.
Starmer has assiduously developed the idea that he would do nothing different from the Conservatives. This is essentially his great USP. On Rwanda there's barely a murmur, on Brexit he'll "get it done". On the constitution he's 100% Unionist. Diehard. Then, having established his impeccable Conservative credentials, the SNP are told they must support him without question.
You following?
Labour's shambles also didn't make sense for it's own processes. Months ago – years ago? – it's all a bit of a blur – Gordon Brown was tasked with going away and coming back with a 'blueprint' ('Brownprint' surely? – Ed. You are the Ed stop interrupting!). We've not heard anything about it for a very long time and now along comes Sarwar's 'series of papers'.
From Sarwar's speech we were told: "These papers will form Scottish Labour's vision for change, complementing the work that Keir Starmer has asked Gordon Brown to do, exploring how we change the UK" – but you sense not everything is happy in the Labour family. This is like a gushing torrent of bad ideas thrown out in response to Sturgeon's announcement. They make little sense and only cohere around the idea that democracy must be suppressed regardless of the result of any elections. somehow that's going to be the basis for renewing British democracy. Are you following?