Our Way of Life
As the coronation looms you can see your democratic rights being stripped away – as the basic right to peaceful protest is removed.
But there's another aspect of this that's worth noticing as a convergence of 'threats' are recognised by the British State. One is specifically climate activism – here watch Just Stop Oil protestors being arrested – another is those of us arguing for self-determination. In an article that closely followed this one 'Britain and the new National Conservatism' – Neil Mackay notes that National Conservatism argues:
"One tenet reads like a thinly-veiled threat to devolution. "Subdivisions" of the nation state "in which law and justice have been manifestly corrupted, or in which lawlessness, immorality, and dissolution reign" will lead to "national government [intervening] energetically to restore order".
This has history. Some of you will remember when Theresa May compared those who argue for self-determination for Scotland with ISIS (we covered it in 2017).
Among the reactionary and repressive new legislation of the Public Order Bill is a notion that brings together attacks on refugees and immigrants – that is the idea of a 'British way of life' – a vague and nebulous idea that assumes superiority and exceptionalism but defines nothing: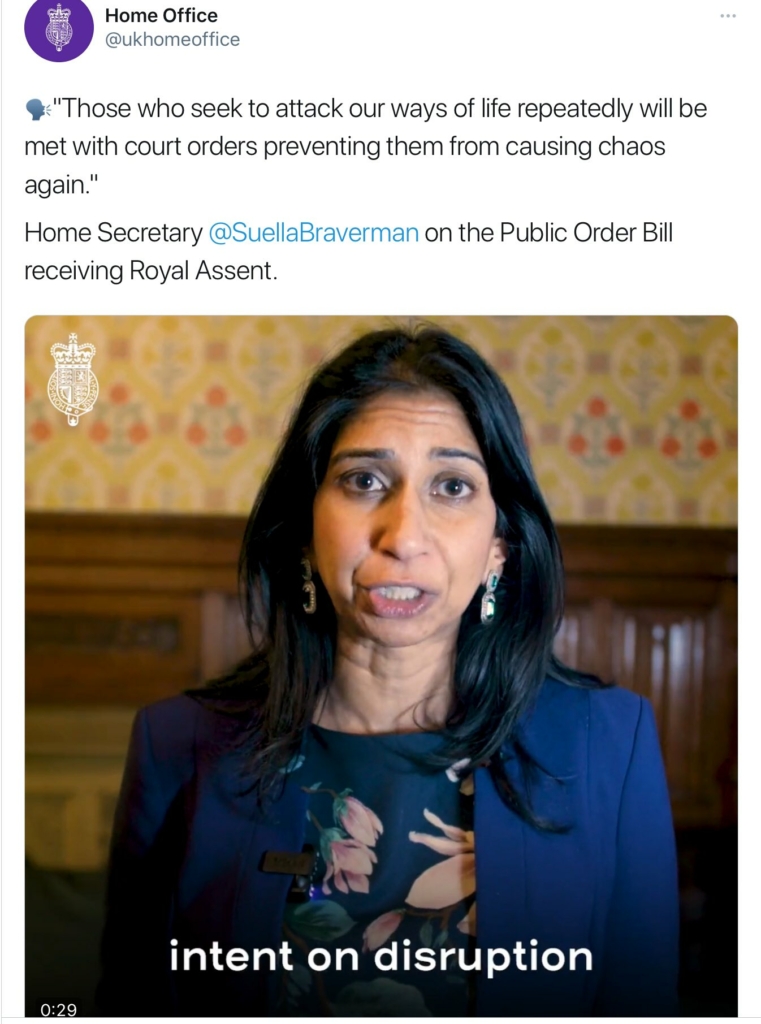 What is being protected here is capitalism and order and the British state. There is no 'British way of life' unless you want to refer to chronic deference and a history of violent imperialism.
Conservative minister are doubling down to promote this:
The Public Order Act will stop anarchist climate activists and others from putting lives at risk.

We've toughened up sentences for the guerrilla tactics of these groups and given the police the powers to just stop the chaos. pic.twitter.com/J4QyTcbyG8

— Rt Hon Grant Shapps MP (@grantshapps) May 3, 2023
Climate activists are being branded as 'anarchists' (though to be fair some of the finest are).
As we reported back in 2020 ('Domestic Extremist'): "You live in a state that can't tell the difference between Extinction Rebellion and National Action, between Judi Dench and Combat 18, and thinks cyclists and vegans and peace activists are a threat to society."
Some of the roots of the current legislation is in Counter Terrorism Policing, which has analysis of 'threat' that subsumes anti-fascists with actual fascists, and CND, 'Nuclear Power No Thanks' and anti-GM activists with the far-right.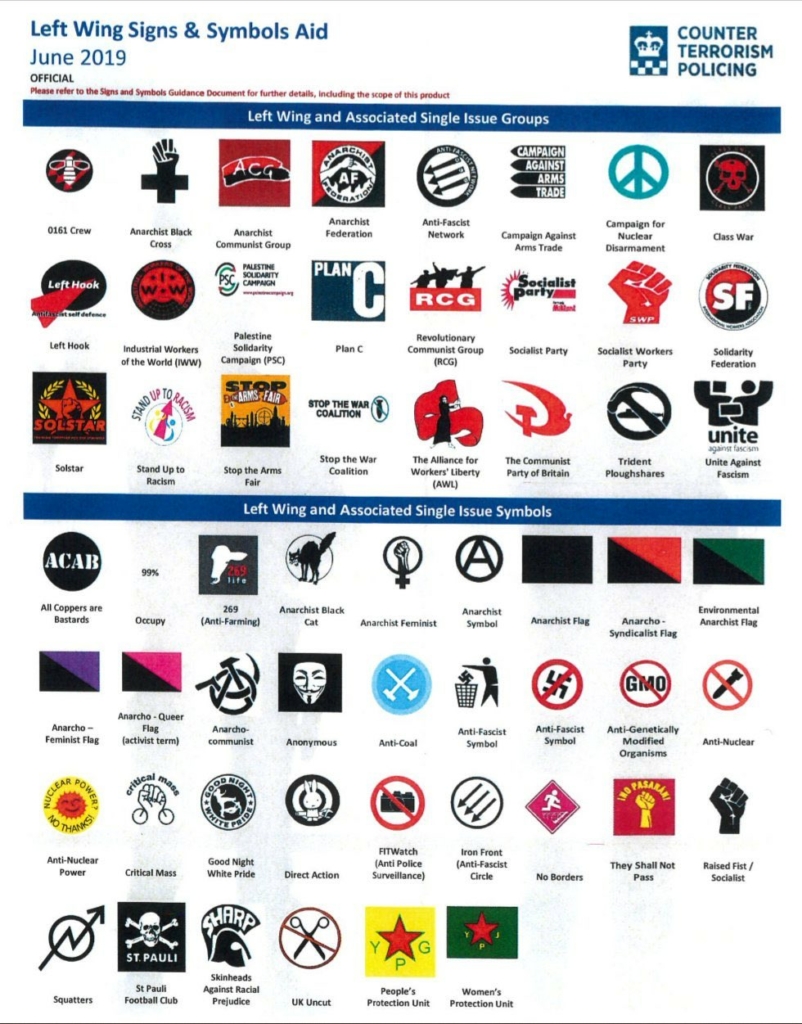 That the legislation is being brought in just days before the coronation is no surprise.
What is being defended is 'order' in the most general sense. In the past the description of Britain as a 'police state' was used to freely too glibly. But now the authoritarianism of the British state is advancing in leaps and bounds, Our rights are under relentless attack. In these circumstances if we are not 'intent on disruption' we are doing something wrong.