Impossible Scotland
You live in a country where nothing can happen. This is accelerating as the death spiral of the SNP continues. There's now a convergence, a perfect storm of opposition to (almost any) legislative change.
Stop drilling for oil? Ridiculous. Heat pumps? Impossible. Glass re-cycling? Can't happen. Protect the seabed? You Metropolitan Elite! The latest policy that is getting intense lobbying and media pressure (from a very wealthy client group) is the efforts to legislate STLs and Air BnB. The fact that this is about a decade too late and can't retrospectively restore whole communities and neighbourhoods that have been destroyed by the phenomenon is by the by.
Check out the hysteria and the sense of entitlement from this lady here:
Short-term lets legislation 'will turn Scotland into a laughing stock'.https://t.co/wr9DamPQB1 pic.twitter.com/o7FrMl1VlN

— STV News (@STVNews) August 24, 2023
As Gordon Maloney of Living Rent wrote ('Holiday Lets, Air BnB and our Housing Crisis'): "Across Scotland, short-term holiday lets are devastating communities. In parts of Edinburgh, there are now more holiday lets than ordinary flats for rent. In some areas in the Highlands, almost 20% of homes are Airbnbs … And while the figures for the number of holiday lets are shocking, the truth is that we don't really know the full scale of the problem. Most available statistics only include listings on Airbnb.  However, there's a number of other, similar platforms, and an unknowable number of properties being rented out in more informal ways. And that's a big part of the problem – right now, the complete lack of regulation means we don't even really know what's going on."
The loose coalition of groups that Don't Want Anything to Happen in Scotland is very wide. It obviously includes the Conservatives and all their networks of benefactors and lobbyists, but also now a wider coalition including elements within Labour and opponents of the SNP which span an unhealthy reactionary spectrum of populism. But it also includes people from within the upper echelons of SNP, and this is one of the core reasons why the party faces its own demise. A prime example of this is Andrew Wilson, who wrote the sustainable growth commission, the SNP's last attempt at an economic plan for an independent Scotland, who has stepped into the row about regulating short-term lets.
The Scottish government has brought in legislation to ensure that short-term letting properties meet recognised safety standards. It's not very radical. This is standard stuff. Under the new rules, anyone providing a room or home for rent has to apply to their local council to obtain a license. They must also show evidence of their buildings and public liability insurance as well as up to date energy performance, fire safety, gas and electricity compliance reports.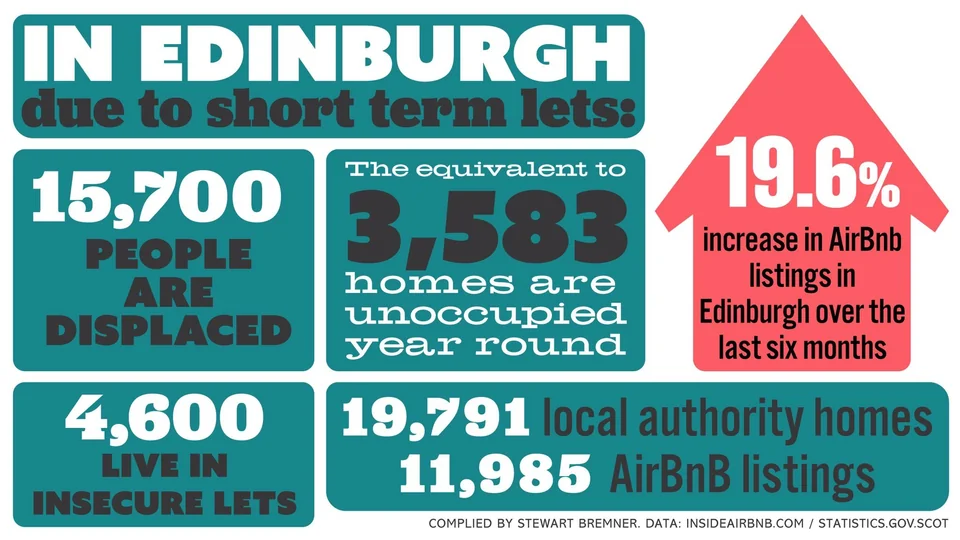 The response has been hysterical.
Now Andrew Wilson, who now works for Santander bank said: "Scottish government looking increasingly dug in on a policy with [sic] very hard to find benefits and clear and definitive risks to economy. Far better
 to pause and get right."
This is now a predictable cycle. Legislation is drafted, consultation takes place, then as the time nears for the legislation to be introduced the hostility gets ramped up. The media have a field day and this convergence of forces come together. 'Business people' express their fears and 'legitimate concerns'. They are always represented as apolitical, independent and fair-minded. Eventually the politicians buckle and a 'delay or a review is agreed.
And so it goes.
Now even the most modest legislation to regulate an industry that has driven social cleansing in Edinburgh and the highlands and hugely exacerbated an already dire housing crisis is under threat.
It is no coincidence that Charlotte Street Partners were advising Airbnb and thus the ASSC about regulation. As I said back in 2021 (Charlotte's Web): 'Scottish politics and media is dynastic. The swirling mass of PR, media, lobbying and politics in Scotland is putrid.'
But the forces at play here are very wealthy. Take 'Save the Self-Catering Sector in Scotland' now the highest grossing litigation crowdfunder in Scottish legal history, basically landlords suing over AirBnB regulation in Edinburgh – to the tune of £270,461.
This is a highly privileged powerful group of people – resisting any attempts to safely regulate their businesses – now being supported and lobbied for by a senior figure of the SNP. Edinburgh and Skye are probably the worst affected parts of Scotland and this legislation is far too late for these urban and rural communities as this report lays out in detail.
The whole story raises questions not just of who the city is for (I think we know the answer to his) but also, who is the whole economy for? Whose economy is at risk here?