On the March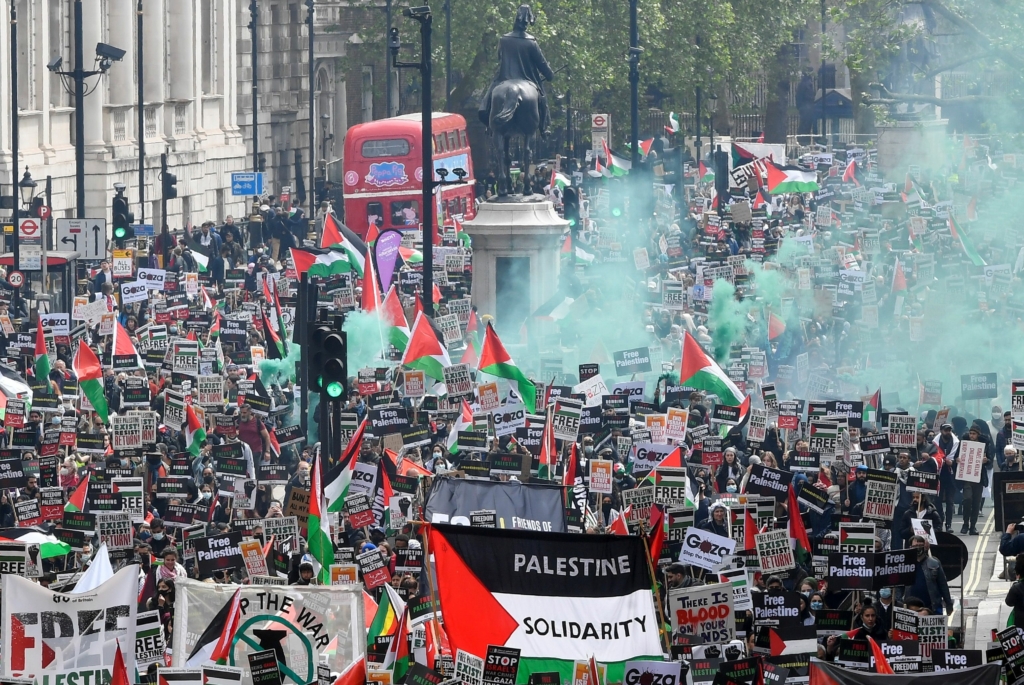 A few notes on what just happened.
Having been gaslit all week by the Tories and their press we are continuing to be gaslit about the events of the last 48 hours.
We are being told that – somehow – the largely peaceful protest of between 800,000 and one million people marching to demand peace is equivalent to a few thousand English fascists threatening and assaulting people and attacking the police.
It is not. There is no equivalence.
We must reject this complete misrepresentation.
Political violence in Britain is overwhelmingly a problem of the right and the far-right.
Far from being 'soft' on English fascists, the police were rarely in riot gear and allowed the EDL and others to take over key sites.
This is the bunch of far-right thugs incited by Braverman, near the Cenotaph, just shortly before 11am. This is how they "pay their respects." The generation who fought fascism would be appalled. pic.twitter.com/KmnFVYhK0I

— Jonathon Shafi (@Jonathon_Shafi) November 11, 2023
They were also allowed to intimidate and assault people throughout the day.
Peace activists from XR laid out the names of the 4100 Palestinian children killed in Gaza & the 26 Israeli children killed. They placed 100s of children's shoes on the steps & held a silence for armistice & children. Then the thugs arrived. My Mum is one of those attacked. pic.twitter.com/2D3amX5GNm

— Aydin Dikerdem (@AydinDikerdem) November 12, 2023
Having summonsed her hate mob Braverman and her allies are now attempting to pretend that the protest was a violent one and will attempt to shut down future marches and repress public opinion. This narrative must be exposed.
The main thing that the Conservatives are terrified of is this man here and what he represents (the majority of public opinion).
Rev. Tim Daplyn: "It's been termed a pro-Palestinian demonstration, but I think it's a pro-peace demonstration… old soldiers, on Armistice Day, calling for Armistice.." pic.twitter.com/4QqiGL1UAD

— Haggis_UK 🇬🇧 🇪🇺 (@Haggis_UK) November 11, 2023
Secondly we need to talk about the problem of English fascism, and how it is connected to the more 'mainstream' parliamentary right without either overplaying this and giving them more agency than they deserve, or smearing wider English society. But we do need to talk about this.
But the main takeaway from what's happening is the need to defend the right to protest which are under significant threat.
Finally – we must be pushing for the Scottish Parliament to take an independent stand and demand a ceasefire and denounce war atrocities, supporting those MSPs and MPs of all parties who are calling for a ceasefire and defying their leadership (in the case of the Labour Party).
In such times its easy to feel cowed and threatened. They tried to ban the march. They failed. They tried to frame the march as violent, they must fail at this too.