Labour's Red Mist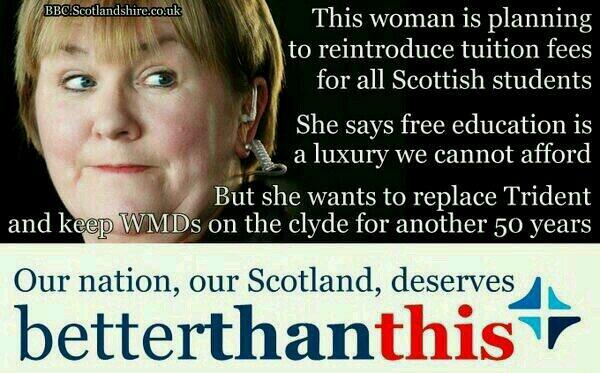 So it seems Labour's tantalising dalliance with Red Socialism didn't last very long. At the beginning of the week the docile commentariat was agog at the prospect of Labour's new found radicalism. They were, we were told 'outflanking' the SNP. Margaret Curran and George Foulkes were the Rosa Luxemburg and Zack de la Rocha of Scotland just ready to unleash a blast of old-school Marxist rage into the independence referendum debate.
For the sharper wits amongst you the prospect of a Labour Party dedicated to new nuclear power, 'deeper' austerity measures, new Trident, an aggressive foreign policy, and privatising health and education, should have suspected this 'outflanking' business was unlikely, but sadly, sharp wits seem thin on the ground. Poor Hamish McDonnell, losing the plot wrote:
Indeed, Lamont could not have taken a harder socialist approach had she grabbed a red flag and waved it from the rooftop of the Scottish Parliament building. The words she kept using were 'progressive' and 'redistributive' but the message was clear – she intends to give the Scottish Parliament the power to hammer the rich, squeeze the middle classes and balance as many wealth inequalities as she can.
This from the women whose only single contribution to the political debate during her tenure was to state explicitly that she rejected the concept of universalism.
And, he continued, in a passage that is quite incredible given he's a professional political journalist:
This was the real Scottish Labour Party here – not the one which pretends to sympathise with the squeezed middle classes or which tones down its socialist rhetoric.  Being 'progressive' and 'redistributive' is what it wants to do and, if the Scottish and UK parties are indeed following the same course, then where Scotland goes first, the UK will follow.
Yes Hamish, that's how it works. Where Johann Lamont leads, the UK party follow. She's a hugely respected figure who is leading policy at a number of influential think tanks very close to the heart of Miliband's inner core.
Over at the Herald, Magnus Gardham spoke of 'another sign of Labour's shift to the left'.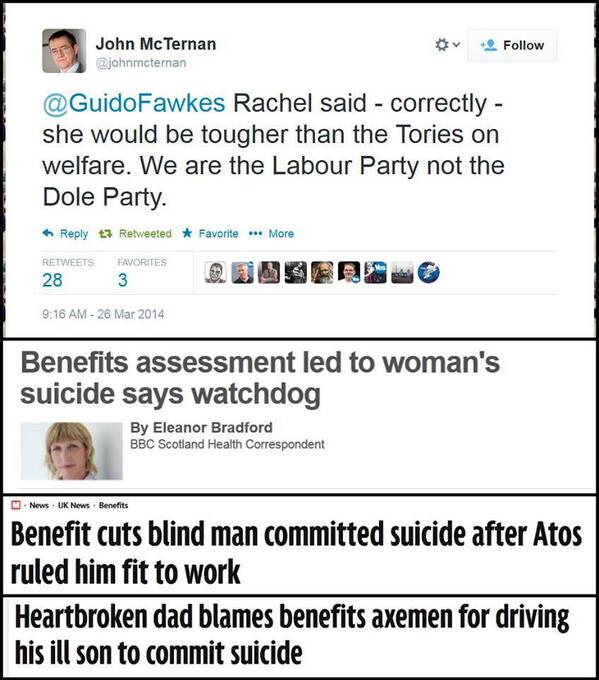 Meanwhile, back on Planet Reality today, Shadow Work and Pensions Secretary, Rachel Reeves explained that Labour would be backing Osborne's pension reforms.
In fact, on the day that it was revealed that Tim Salter, a depressed blind man killed himself after he was left penniless because his benefits were slashed, John McTernan tweeted:
"Rachel (Reeves) said correctly she would be tougher on benefits than the Tories. We are the Labour Party not the dole party."
It's not exactly the Communist Manifesto, is it?
As new research finds average debt of low income households affected by benefits changes is almost £3,000 – up 29% since October. As the cuts leave 250,000 people 'without state care' and further cuts are promised by the coaltion. This would be an opportunity for Labour to mark out an alternative. Not a some cunning tactic to win over a key demographic – but because that's supposed to be the ******* point of the Labour Party.
That there is no such response, whether from Johann Lamont (we think the scribes mistook tribal rage for radicalism) or from Ed Miliband and his hapless band of policy wonks, is sad but true.
As Ian Bell wrote in a devastating piece: 'There is no Labour escape route from Conservatism':
What Mr Miliband means by social justice when he and Mr Balls, armed with a "zero-based" spending review, are promising still more cuts is anyone's guess. Labour's short-term offer amounts to little more than a redistribution of the social and economic pain.

Voters neither believe in him nor trust him. It is the central fact of British politics. It is also a large, inescapable fact in Scotland's long argument over independence. There is no Labour escape route. All the talk of social justice one day is just talk.
This week, today, tomorrow and the next, and in the weeks ahead, we will see the Labour Party's new socialist credentials revealed. Despite desperate cheerleaders in the media, it will remain utterly committed to the Austerity Union. That's guaranteed.