Scotland's Deciding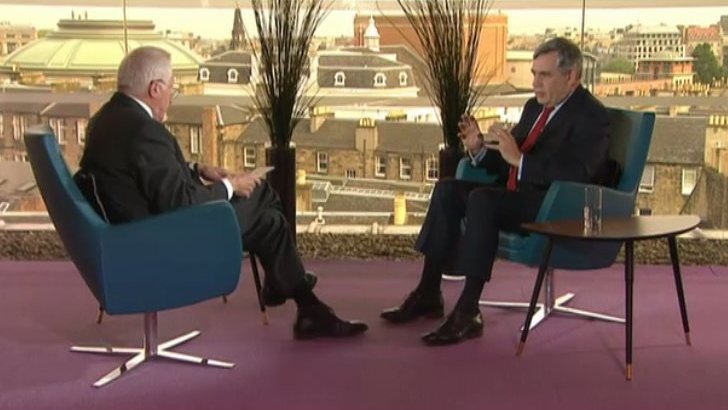 It seems Alistair Darling has been cast aside after his disastrous tv debate performance with Salmond, and Gordon Brown has been put in charge to make the case at this late hour. Such a change from the Yes team would have been pounced on by a conscious and professional media (see here for a neat synopsis of media problems).
So instead it's come to this. Gordon Brown playing the Jock on the Big Telly to the whole of the UK ('Scotland Decides – the Dimbleby Interviews', BBC 1 broadcast Tuesday 16 Sept 2014).
He points to David Dimbleby: "You've just come up from London on a day trip". Few will miss the irony. Dimbleby bristles. We're all interested in Scotland now. For a bit anyway. "I've been up and down for weeks".
Brown is at pains to get the mood right. He talks of talking direct to his 'fellow Scots' (something he has failed to do throughout the whole campaign , instead relying on pre-packaged invite-only events).
This is the man who spoke of 'British Jobs for British Workers' and urged us to plant Union Jacks in our gardens.
It may be too late for the patriot game.
Instead what we're offered today is The Vow. It's like The Voice but instead of Tom Jones, Will.I.Am and Kylie we have Nick Clegg, Call Me Dave and Ed Mil.I.Band. Their backs are away from us as they offer a vow, but no-one knows what it is.
It's a great idea for a game show.
"We'll give you something (we won't say what) but we'll give you it really quickly" seemed to be today's pitch.
There seems to be a recurring problem with time in the No campaign's whole approach. Remember they wanted the referendum, first not at all, then 'bring it on', then back to 'Never' and lines in the sand, then they wanted it 'immediately', and stop 'messing about' was the line. The long complaints about 'when will this be over?', like kids in the back of the car.
It's the same with the 'the most successful union ever in the history of humanity' claim. So we have this long stretching back, always backwards, then this sudden huge leap forward into an abyss of The Vow.
Timing has been a problem for Brown throughout his career, and now he's shadowed by three other politicians whose careers seem untimely. Miliband who says nothing, Clegg who said too much and Cameron who listens thoughtfully.
Remember this is the man who now lectures us on pensions but laid waste the pensions industry.
In 1997 Gordon Brown's notorious "pension stealth tax" reduced the value of retirement funds by at least £100 billion.
The total current and future impact of Mr Brown's move — known technically as the abolition of Advanced Corporation Tax (ACT) relief — has been calculated by Terry Arthur, a fellow of the Institute of Actuaries, in a paper written for the professional body. Mr Arthur said: "What happened in 1997 represented an enormous and ongoing raid on the assets of UK company pension schemes. My research shows it would be very hard to justify an impact of less than £100 billion — and even £150 billion may still be a conservative estimate."
And now? Gordon Brown talks to Dimbleby about the UK as a powerful force for redistribution, 'between regions and nations' … 'Home Rule' … even listening very closely it's difficult to discern what he's actually saying. It goes something like this: Britain is centralised, undemocratic and unfair, but we can fix it. Britain is broken in different ways and each constituent part gets a different part to fix the way its uniquely broken, so Scotland gets pensions, and Wales gets disability benefit and London gets housing benefit.
It's one of the strangest, most garbled political narratives you are ever likely to hear.
As Robin McAlpine has written: "It is often difficult to tell whether Brown is delusional or dishonest. Either he really believes that the UK is redistributing wealth as a result of an economic model he put in place (delusional) or he is just telling Scotland that in the hope we're stupid (dishonest). Either he really believes that the UK economy is sound (delusional) or he just wants to distract Scots from the reality of modern Britain (dishonest). Either he thinks he is viewed as a giant of Scottish politics (delusional) or… Actually, this is just plain delusional.
Neither redistribution nor socialism are on the table for Scots if we vote No. Austerity and benefit cuts are the only things on the table. If Gordon Brown wants to make any amends for the harm his tenure did Scotland, just scrape up the decency to admit this truth."
Attempts to resuscitate the corpse of British democracy will fail, not because they might not be good ideas, but because they are issued from an imaginary power base. Brown may be surrounded by a faithful press pack and party acolytes but he is further from power now than he has ever been. His Fife bunker may be well-appointed but it suffers from Northern Exposure.
Brown's detachment from reality – and from the processes of democracy is not a surprise. His appearance as Prime Minister had little to do with normal process.
As Tom Nairn put it in the past:
Brown was not of course elected, parachuted from On High, or installed by an indignant mob: over many years he materialized in fits and starts, glimpsed intermittently like a ghost from times past, brooding but saying almost nothing. Then suddenly the spirit was there, seated all too comfortably in the Anglo-Brit living room, account-books and Britannic sermons to hand. The armchair's previous occupant had left for Jerusalem. Such is death in life.
Now he reappears like a Ring-Wraith to protect Britain, the Zombie Nation speaking gibberish to the faithful. Not so much speaking truth to power as speaking power to truth.
He talks of realising that 'change is in the air' but it's 'the wrong change'. He will bring about the 'right change' but he can't tell us what that is.
He has a handful of carefully worn phrases. Some of them are well shaped. He says: "I vote for Scotland leading Britain – not leaving it". It's not clear whether he means him leading Britain or 'us', somehow. It seems unlikely. I check my Better Together leaflet in which JK Rowling tells me, helpfully: "This is not a General Election." Amongst the stingingly offensive propaganda lies this gem: "Leaving the UK means more expensive shopping. Today everyone in the UK pays the same prices in supermarkets even though it costs more to transport food to Scotland."
Of course we don't produce any food here, so it has to be trucked north to our greedy feckless outstretched hands. We should be grateful they keep it cheap. It's such a gratuitously offensive concept, but this insult lies buried and lost within the wider thinking of Better Together as us a donor recipient.
Leading not leaving.
Reviewing
My Scotland, Our Britain
, Ian Bell has written (
'The Tragedy of Gordon Brown', Scottish Review of Books
): "Labour, Scottish and British, had many chances. One aspect of the fact is that many in its ranks never cared much for home rule, far less for independence, and would still rid themselves of the Holyrood nuisance if they could. As with Brown, the Westminster connection has justified their careers. As with Brown, they cannot conceive of an existence for themselves or their country that does not have London as its terminus and pinnacle."
All the 'pooling and sharing' all this empty talk of a 'sharing Union' doesn't hide the reality of the Poverty in Scotland 2014 report that outlined how UK austerity measures will push 100,000 more Scottish children into poverty by 2020.
Time's up. It's slipping away. Even Dimbleby knew it.