From Scotland with Love *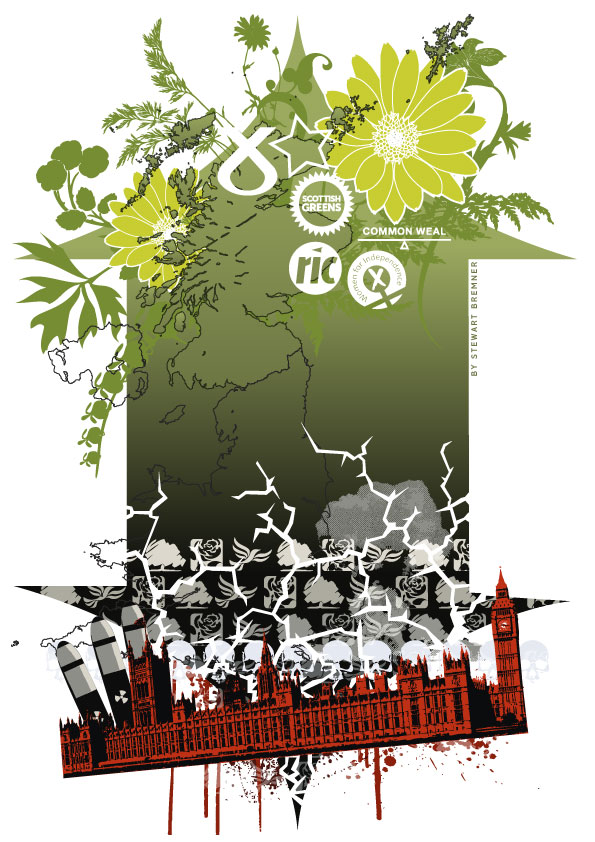 By Mike Small
What a weird empty election campaign characterised by selfies, twitter-spats and endless debate about the outcome itself. Like the political equivalent of the mobile phone we've ignored the here and now for the somewhere else.
Convergence, daily polling releases and stage-managed photo-opportunities made this election more of a spectacle than a serious public discussion of policies or politics. This has been about bacon rolls and Ruth Davidson sitting on tanks and steam trains.
It has been both the most important and the most meaningless campaign ever.
Where has there been serious debate about our ecological future? (and the Greens are complicit in this). Where has there been serious discussion about international affairs? These massive issues have just been absent.
The commentators all agreed this was boring, dull and dreary as a weary cynicism took hold south of the border to be enervated only by a regular dose of Jockophobia. People slagged Miliband for talking to Russell Brand, Cameron for his fake 'pumped up' phase, Nick Clegg for being Nick Clegg and Farage for being a shallow dirty opportunist.
But messages from north of the border have rained-down an endless positivity. The fresh thinking of Commonweal, the emotional energy of the Greens, the continuity of Women for Indy, the edge of RIC and a hundred other projects have combined to create a residual energy bank from the Yes movement. The simple reality that 4 million people are registered to vote in Scotland is something we created.
It seems like one country is pegged down by a sort of fog of ambiguity, disinterest and ennui, not helped by a political 'alternative' that is desperately uninspiring, while another is still awash with a positivity that is as undeniable as it is unexplainable.
Go figure.
We seem to have undergone some kind of massive role-reversal. We seem to have one nation that is bitter and chippy and disillusioned and another that is increasingly confident about its place in the world. While England seemed precoccupied with Scotland, Scotland was going about its business, gallus and still imbibing with Yes movement good vibes.
Like the slightly desperate efforts to make Ed Miliband into a ruthless 'back-stabbing' mercenary, the idea of Nicola as a mad vicious separatist dissolved into a puddle of its own absurdity. Her mantra of 'no referendum', and her relentless message of moderate reasonable sensibleness was hard for even the most hardened hacks to re-convert in vicious spin. They tried.
But Scotland's voice has meant we are the positive light in a dark and negative campaign – we will have increased turnout and voter engagement not just because of the beatification of Nicola Sturgeon nor the emptiness of the alternatives but because Britain is cracked, and people are wising up to this reality.
Questions of 'legitimacy' do nothing but feed the impression that Scotland is a barely acknowledged, barely allowed Northern neighbour.
Simon Jenkins has written that: "Scotland can be simply disposed. The Scots appear fed up with the English, and the English with the Scots. No amount of subsidy, economic scaremongering or fake emotion can overcome this message from north of the border."
It's a stunning comment amongst many.
This election is the first step on a longer journey.
Step out, step on.
This title is used simply to annoy my good friend King Creosote