Out to Kill
"Whose arms are killing Yemen civilians?" Our arms are.
Amnesty writes: "In a new report released today, the Control Arms Coalition names France, Germany, Italy, Montenegro, the Netherlands, Spain, Sweden, Switzerland, Turkey, the UK, and the US as having reported licenses and sales to Saudi Arabia worth more than $25bn in 2015 including drones, bombs, torpedoes, rockets and missiles. These are the types of arms currently being used by Saudi Arabia and its allies for gross violations of human rights and possible war crimes during aerial and ground attacks in Yemen."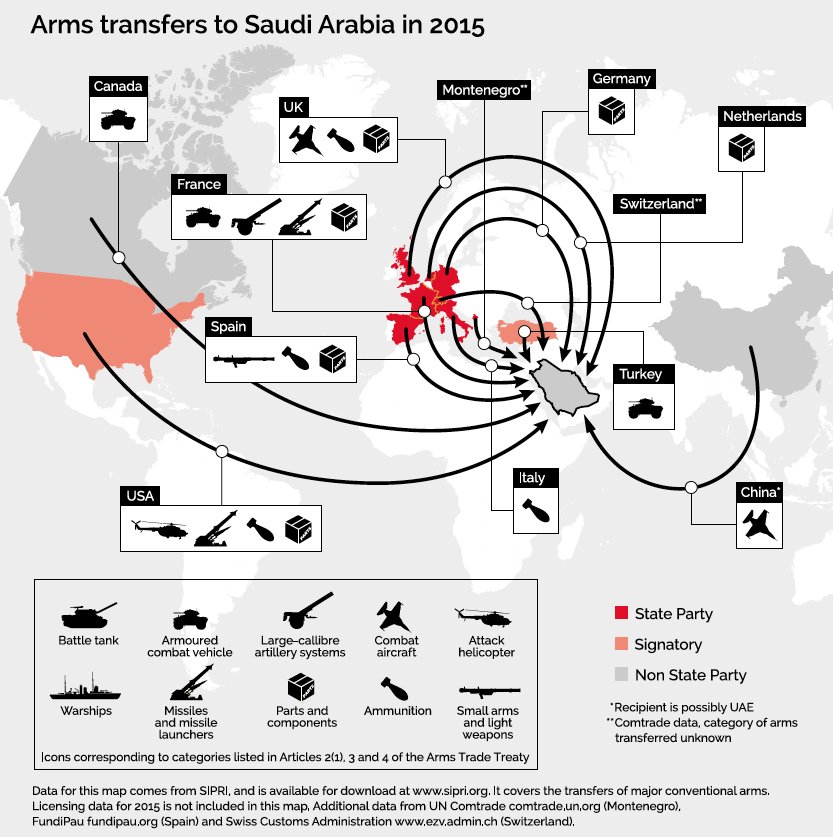 Between January 1 and September 30 2015, the UK issued a total of 152 licences for exports of military equipment to Saudi Arabia, totalling $4.16bn – seven of these licences were worth a total of more than £1bn for bombs, torpedoes, rockets and missiles. The UN and Médecins Sans Frontières have  said Saudi Arabia is contributing to a "humanitarian disaster" in Yemen.
This sits nicely with another top story today, as the Independent's Jon Stone reports: "The European Parliament's support for an arms embargo on Saudi Arabia shows why Britain must leave the European Union, one of the EU referendum "leave" campaigns has said. Leave.EU said the EP's 359 to 212 vote to back an EU-wide end to weapons sales to the autocratic petrostate risked starting a "damaging trade war". More here.
Got that? We need to leave the EU because they are stopping us flogging arms to Saudi Arabia.
Is this the future of a low-tax, low-wage, hyper-free-market "Britain" that the Outers yearn for? Yes, and we know so because that's what they've told us. The backstory to the right and far-right's mission to 'set us free' has some pretty clear ideology behind it.
While it's easy to laugh at Mandy Boylett and her crowd (and we do), the further up the Tory Out campaign you go it doesn't get any less crazy. We have Nigel Lawson suggesting that Ireland would 'realise its mistake' and 'rejoin the UK' and we have the terrifying Priti Patel, now  Minister of State at the Department for Work and Pensions, who is advocating a return to hanging, a practice that is banned in Europe.
In fact abolition is a condition of membership of the European Union.
In that sense, the moral logic for Patel is complete. Support for arms sales to Saudi Arabia is a simple act of economic freedom, and state murder would become a common policy. It's a frightening thought what a Britannia Unchained would look like. The more the right articulate their vision the scarier it becomes. These are not people on the fringe, these are people at the very heart of government today.