Strategic Thinking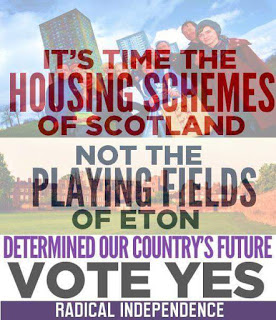 The Radical Independence Campaign welcomes the recent series of Yes workshops, following last November's successful 'Bridges to Indy' conference.  These are undertaking the necessary grassroots organisation for renewed campaigning. RIC also believes that strategic thinking is required. This needs to be conducted in an open and welcoming way. The Yes campaign is much wider than the political parties.  RIC played a key role in IndyRef1. RIC remains committed to its Founding Principles, which united those on the Left of the Yes campaign. We stand for a Scotland that is:-
For a social alternative to austerity and privatisation
Green and environmentally sustainable
A modern republic for real democracy
Committed to equality and opposition to discrimination on any grounds
Internationalist and opposed to war, NATO and Trident
We are organising a conference so that the discussions can take place, which will allow us to create the kind of Scotland to make these a reality.  
Radical Independence Campaign – National Spring Conference
City of Edinburgh Methodist Church, 25 Nicolson Square – Edinburgh, EH8 9BX
Saturday, March 10th
Doors are open at 11.00am and the event starts promptly at 11.30pm.
Session 1: 1130-12.30
The effect of Brexit on Scottish independence –
Maggie Chapman (Scottish Greens) and Neil Davidson (RS21)
Lunch : 12.30-13.15
There is a cafe in the venue and several excellent places for lunch close by.
Session 2: 13.15- 14.15
What now after the Scottish Independence Convention Conference
Jonathon Shafi (RIC) and Lesley Riddoch
Session 3: 14.15-15.30
The effect of Corbynism and the election of Richard Leonard as Scottish Labour leader on Scottish politics
Cat Boyd (RIC), Rory Scorthorne (Labour Party), Tommy Sheppard (SNP)
Session 4: 15.30-16.30
International connections Catalunya and Ireland
George Kerevan (SNP) + Gerry Carroll (People before Profit MLA for West Belfast).
All the speakers are speaking in a personal capacity
Winding Up: 16.30-17.00
Everyone is welcome. There is no upfront ticket charge but we ask for £10/£5 on the door.
Sign up to secure a place: 
https://www.eventbrite.com/e/radical-independence-campaign-conference-tickets-43271637633