Fugue State
Dissociative fugue, formerly fugue state or psychogenic fugue, is a dissociative disorder and a rare psychiatric disorder characterized by reversible amnesia for personal identity, including the memories, personality, and other identifying characteristics of individuality. The state can last days, months or longer. Dissociative fugue usually involves unplanned travel or wandering, and is sometimes accompanied by the establishment of a new identity.
Brexitland is a Fugue State, a country confused and delusional, and it is manifesting itself in extraordinary ways.
This weeks most entertaining Twitter spat (well, second) between Ross Greer and Piers Morgan over the question of Winston Churchill's alleged racism, exposed a gulf in nations, ages and political cultures. Morgan, drawn to the social media controversy like a moth to the flame invited the Scottish Green Party MSP onto his tv show with a touching welcome:
"The thick ginger turd MSP @Ross_Greer who said Churchill is a 'white supremacist mass murder' will be appearing live on @GMB tomorrow."
Morgan's shrill incandescent jingoism was met with some calm and some history by Ross. But the exchange did seem to bring to attention the depth of England's identity crisis, as it staggers into its self-imposed humiliation. Without an ounce of self-reflection, ignorant of its own history and confused about its own identity Brexitland is drowning in hysteria and self-deception.
Icons like Churchill are held up to be praised unquestioningly. History is to be venerated but not read or understood. The truth about Churchill is undeniable even if it is unpalatable. The more precarious the Brexit predicament becomes, the more ridiculous and toxic and unstable the whole situation develops to be, the more desperately Empire Loyalists like Morgan become, triggered by anything that challenges their fragile world-view. Last week it was Gillette, this week it was Greer. Next week, who knows?
The Indian MP Shashi Tharoor seemed to be on point:
Author @ShashiTharoor says Britons suffer from "historical amnesia" when it comes to understanding the history of the British Empire pic.twitter.com/zE4nhRZWXU

— Channel 4 News (@Channel4News) March 3, 2017
The twin of India is, of course Ireland.
This week also saw the spectacle of John Humphry's suggesting to Helen McEntee, Irish Minister of State for European Affairs that Ireland should leave the EU and "throw in their lot" with the UK. Listen here.
If Humphry's is the curmudgeonly self-entitled radio star to Morgan's tumescent spiv tv character, both share a deep ignorance of history.
But if the outpourings of these individuals from their powerful media pulpits leaves us incredulous, the behaviour of a government seemingly also bewildered and disoriented leaves the rest of Europe confused.
How are you supposed to interact with Theresa May, a women so consumed by opportunism and so bereft of integrity that she is like a walking advert for a dysfunctional broken politics?
Tonight, inevitably, Jean-Claude Junker confirmed that the Withdrawal Agreement will not be renegotiated and then informed the European Parliament that he does not know what the House of Commons is for.
As May oscillates between European capitals like a cadaverous pinball, at once declaring and then un-declaring sacred positions, tearing up absolute red lines and renouncing deeply-held beliefs moment to moment, the rest of the world looks-on in astonishment.
European Parliament Vice President Mairead McGuinness responded to Theresa May's pledge to renegotiate the Brexit withdrawal deal saying: "Reopening the Withdrawal Agreement is not on our table, and indeed was something that the Prime Minister, as I recall, ruled out herself."
Perhaps this is all part of a script, a play in which in the final act the tragic heroine departs stage and the audience is left booing Brussels, or Ireland, or both. But I doubt it. It feels more just like abject chaos, a venal, useless political elite clinging to power and desperately seeking answers to questions of sovereignty they can barely comprehend. Brexit has unearthed some visceral hurt, some primal wound in the English psyche, and all they have to process it is the spectacle of this haunted woman shuttling about Europe nurturing failed deal after failed deal, her credibility withering before our eyes.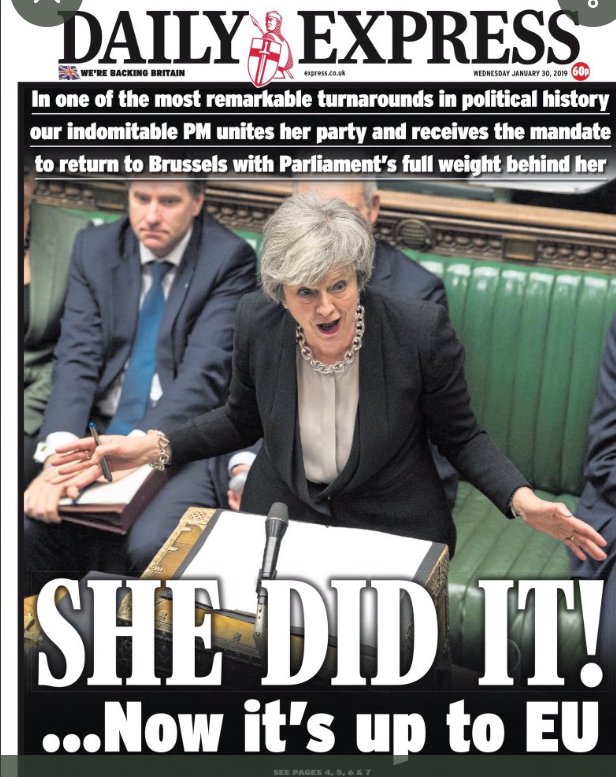 Defeats and humiliation is cherished like a victory as the UK descends into absurdism. The Daily Express crows that "our indomitable PM unites her party and receives the mandate to return to Brussels with Parliament's full weight behind her."
"She did it!" they scream, seemingly watching a series of events that no-one else can see.  But the tone is suitably Churchillian, a brave isolated Britannia overcomes adversity and socks it to them. Even the language around a No Deal is militaristic and nostalgic, conjuring visions of the Blitz Spirit and overcoming unseen foes.
As the toxicity of public life seems to further deteriorate, with racist attacks becoming an everyday occurrence and a willed-hunger emerges as an actual goal, the government turns to more bizarre and extreme solutions.
The idea of Martial Law is being discussed.
It's not clear if this is legal.
I can't remember the source for this (sorry) but someone has explained: "The Petition of Right which is reproduced in the preamble of each annual Army Act, asserts the illegality of martial law in time of peace in the following terms:—"No man shall be fore-judged or subjected in time of peace to any kind of punishment within this realm by martial law."  C. M. Clode, in Military Forces of the Crown, argues that the words of the Petition of Right and of the Military Act since the reign of Anne are plain in this respect "that … the crown possesses the right of issuing commissions in war and rebellion."
It's difficult to either keep up or absorb the unfolding Brexit process. it is simultaneously exhausting and boring as well as mesmerising and intoxicating.
What literary metaphor can describe the experience? It has the darkness of a William Burroughs dystopia and the atmosphere of a Lewis Carroll tale but James Felton has it when he writes:
"At the end of Of Mice and Men Lenny is in big trouble. Rather than tell him that there's no way out, his brother describes again how they're going to live on a beautiful ranch & tend rabbits, before shooting Lenny in the back of the head. Anyway that's where we are as a country."
That's a long way from the sunny uplands.