On the March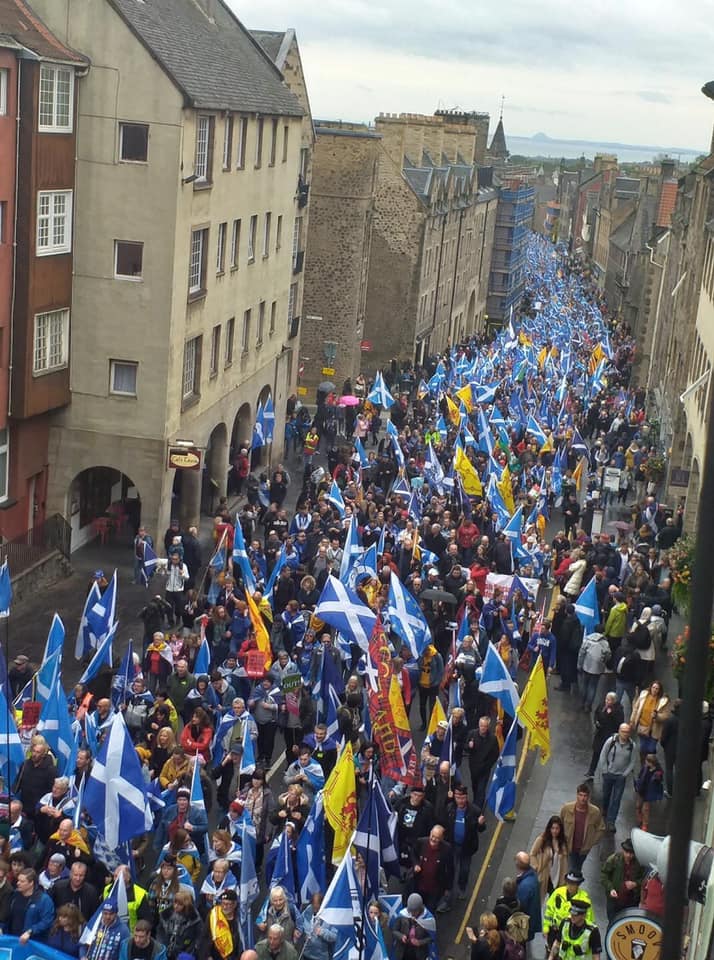 The maneuverings for a route to independence have in recent times seemed dark and twisted, with too many obstacles in the way. Many activists report burnout and disillusionment: with the movement, with their party (various) or with politics in general. But there's room for some optimism as Britain staggers to No Deal.
I've been a friendly critic of the AUOB marches, but you can't fail to be impressed by getting 200,000 people on the streets of Edinburgh last weekend. This was a significant moment. I remember through the late 80s and 90s marches of 20 or 30 thousand would be thought of as significant political events. I can only really think of the Make Poverty History March in 2005 (estimated at 225,000) and the huge Iraq war march in Glasgow in 2003 as anything comparable. The scale of these marches may well be an indication of, as Jonathan Shafi has put it: "a new phase of the independence movement".
There are still real problems with the marches: I'm not convinced they are the mechanism or forum that really engages with many new people; and the speakers list seems tired, predictable and off-putting to a section of people (sorry that's just true). But what was once deemed a negative may actually be a positive.
For a while now there's been calls for Nicola Sturgeon to address one of the big rallies. But this distance from the SNP might actually be a positive thing. These marches are organic, self-organised and independent. They are an expression of the grassroots movement that at its best is a rejection of the values and policies being foisted on us through Westminster and through the toxic Leave campaign. They need (in my view) to be more innovative, more deliberately open and more expressly political. But the hysterical reaction of the Unionist commentators, that these marches don't really exist, or they're insignificant, or they're a 'twitter day out' (insert your own conspiracy theory here) suggest that they are rattled.
At the same time – a crucial lesson from 2014 was don't be fooled by the phenomenon. In other words don't be fooled that you're experience of being in an intense personal experience – be it a rally or a march or a concert – is reflective of other peoples experience.
It's into this space that RIC re-emerges with a major conference planned for next month: 'A Failed State in a Failed System: Time for Radical Independence' RIC National Conference 2019 [Saturday 26/10/19 – Glasgow, Radisson Blu Hotel – Tickets available here].
As the blurb goes: "As the crisis of the British State continues to grow, it is vital that the independence movement debates the best way forward. How can we meet both the challenges and opportunities that lie ahead? Covering issues including strategy and tactics for the independence movement, the Growth Commission, Brexit and the EU, the democratic crisis, austerity, racism and the climate emergency – RIC 2019 will be an chance to discuss how we can rise to the challenges of the 21st Century. The full timetable will be announced soon."
Speakers include grassroots campaigners, authors, broadcasters, academics, international guests and activists.
Provisional speaker list: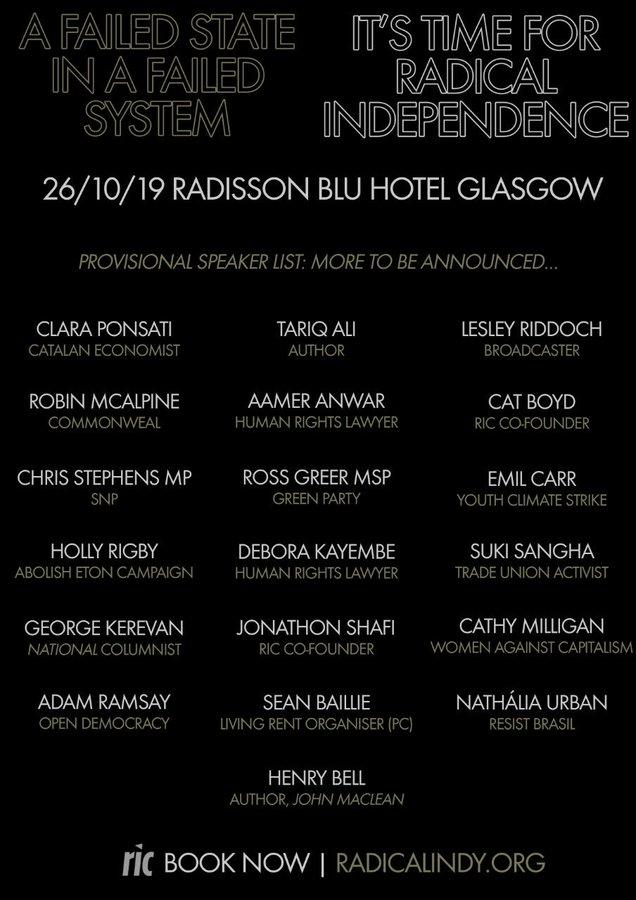 Clara Pontasi, Catalan economist and the National's person of the year
Tariq Ali, legendary author and activist
Lesley Riddoch, broadcaster, columnist, author of Blossom
Robin McAlpine, CommonWeal
Aamer Anwar, human rights lawyer
Cat Boyd, RIC Co-founder
Chris Stephens MP, SNP
Ross Greer MSP, Scottish Greens
Emil Carr, Youth Climate Strike
Holly Rigby, Abolish Eton Campaign
Debora Kayembe, human rights lawyer
Suki Sangha, Trade union activist and anti-racist campaigner
George Kerevan, National columnist and ex-SNP MP
Jonathon Shafi, RIC co-founder
Cathy Milligan, Women Against Capitalism
Adam Ramsay, Co-editor, OpenDemocracy
Sean Baillie, Living Rent Organiser (PC)
Natália Urban, Resist Brasil
Henry Bell, Author, John MacLean biography
What is notable about this event, as with previous RIC happenings, is it is international and cross-cutting across political movements, attempting to draw lessons and energy from the climate strike, from the feminist movement, from the anti-racist movement, from the housing campaigns and from sister movements for democracy such as in Catalonia.
It's important not to be dragged under by the convulsions of the Brexit shambles, and instead be able to cohere a case for independence based on a vision of what kind of society we want to live in and what kind of Scotland we want to create. 'A Failed State in a Failed System' offers an opportunity for expressing solidarity in times of alienation, (re) creating and re-booting a movement in need of a re-charge and sharing ideas for strategies to win.