Good News and Bad on Impeachment Day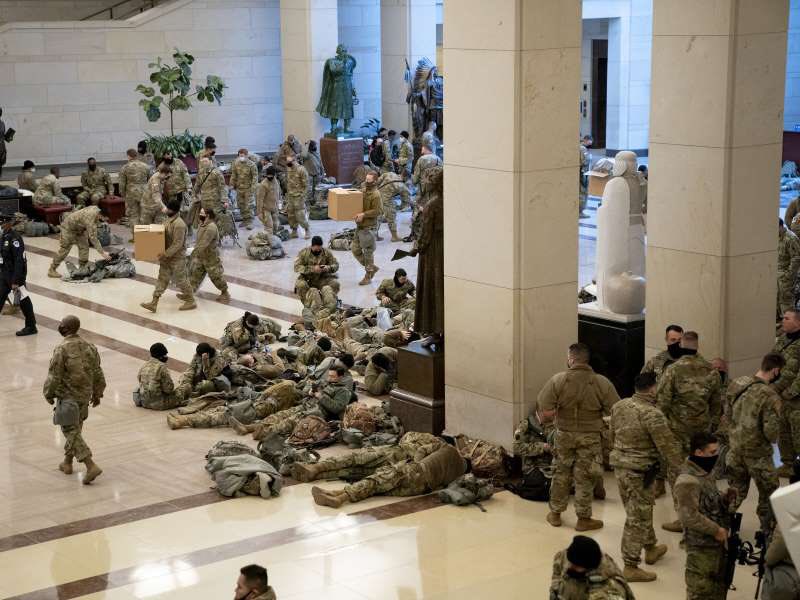 As the facts and footage pour out we're getting a clearer picture of the actions and motivations of the Trump Mob on Capitol Hill and the scale of the violence that took place. My favourite anecdote is that some of them defecated on the floors and tracked their own filth through the hall. What a great metaphor.
But as America's first post-truth President faces impeachment (again), which effectively ends his electoral career, the repercussions are complex.
There's good news and bad news.
As Kdog writes ('Preliminary thoughts on the MAGA riot at the Capitol'):
"The ruling-class has consensus that this is an attack on the system and the state and there is near-unity on rejecting this attack and punishing Trump and the MAGA crowd. While it was headed there already, this firmly establishes MAGA as an extra-legal oppositional street force – of the kind that's not been seen in my lifetime. I think they will be a dangerous and constant factor in national and local organizing for the next few years."
By expelling Trump from the body politic they are guaranteeing his troops resurrection on the streets. But this is probably a price worth paying, and it's unclear what base he can hold having been purged from social media and unable to run again for office. His (corporate) media career is unlikely to flourish beyond InfoWars and a ghost written account of his, er, reign. Like the Capitol's poor carpets he is soiled goods. He can do the Alt-right circuit for a few years – or traipse off to Turnberry – but without the trappings of power he will be a massively diminished figure, a grotesque, a figure of fun, a fat old man facing a wall of criminal charges. Whether there is Trumpism without Trump is another matter. Could the rich mix of reactionary zealots that carried out their botched coup hold together without their glorious leader taking cues from him and his unfortunate offspring? I don't think so.

The political establishment is ejecting Trump – who has become embarrassing even for his host the Republican Party who desperately need to distance themselves from the coup and the crazed Trump dynasty. While the trump Movement was just a vile reactionary racist movement supporting White Supremacy they thought it was convenient and kinda fun, but now that the fantasy has broken out of Parler and Reddit and was actually terrorising the Congress its moved the dial.
It's not just the Republicans who are sanitising themselves from the Trump contagion.
Democratic Rep. Ilhan Omar today urged Republicans to vote to impeach President Trump: "For us to be able to survive as a functioning democracy, there has to be accountability."
The 'Citadel' of US democracy has been despoiled and the humiliating reality that the security forces colluded with the insurrectionists is a stage too far for the American political establishment.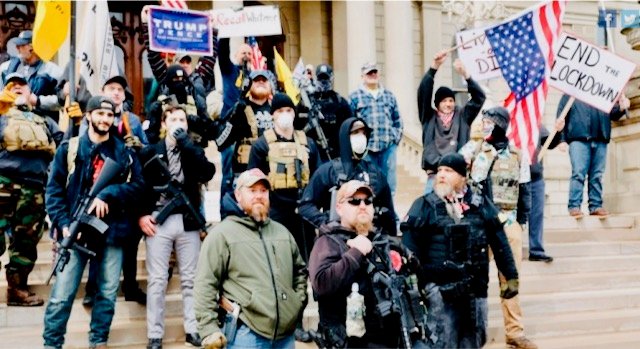 Now what?
There will be an investigation into the security failure, Trump's links to the Proud Boys, and we will see if Biden can be safely made President in a weeks time or whether further violence will spill out. The Republican Party will try and re-set itself but its in very deep has committed very far and is hugely culpable. Their tactic of co-operating with the Impeachment in order to rid themself of the intruder is fine, but nationally they are riddled with Trumps and Trumpism, and that will be harder to expel.
For the rest of us we are burdened by a frail and liberal incoming Biden administration, possibly more scared than emboldened by its new-found power across Congress and Senate and the phenomenon of Trumpism still unfolding across our screens and our post-covid world.
As Timothy Snyder has written ('The American Abyss'):
"Post-truth is pre-fascism, and Trump has been our post-truth president. When we give up on truth, we concede power to those with the wealth and charisma to create spectacle in its place. Without agreement about some basic facts, citizens cannot form the civil society that would allow them to defend themselves. If we lose the institutions that produce facts that are pertinent to us, then we tend to wallow in attractive abstractions and fictions. Truth defends itself particularly poorly when there is not very much of it around, and the era of Trump — like the era of Vladimir Putin in Russia — is one of the decline of local news. Social media is no substitute: It supercharges the mental habits by which we seek emotional stimulation and comfort, which means losing the distinction between what feels true and what actually is true."
Snyder views the rise of Trump's proto-fascism as part of a wider decay, the contaminant of social media and the undermining of basic concepts of truth.
He goes on:
"Like historical fascist leaders, Trump has presented himself as the single source of truth. His use of the term "fake news" echoed the Nazi smear Lügenpresse ("lying press"); like the Nazis, he referred to reporters as "enemies of the people." Like Adolf Hitler, he came to power at a moment when the conventional press had taken a beating; the financial crisis of 2008 did to American newspapers what the Great Depression did to German ones. The Nazis thought that they could use radio to replace the old pluralism of the newspaper; Trump tried to do the same with Twitter.

Thanks to technological capacity and personal talent, Donald Trump lied at a pace perhaps unmatched by any other leader in history. For the most part these were small lies, and their main effect was cumulative. To believe in all of them was to accept the authority of a single man, because to believe in all of them was to disbelieve everything else. Once such personal authority was established, the president could treat everyone else as the liars; he even had the power to turn someone from a trusted adviser into a dishonest scoundrel with a single tweet."
Trump lied about everything, constantly, they poured out of his mouth like someone speaking in tongues. But ultimately Trump told a lie 'that was dangerously ambitious: that he had won an election that in fact he had lost'.
Finally this collided with reality.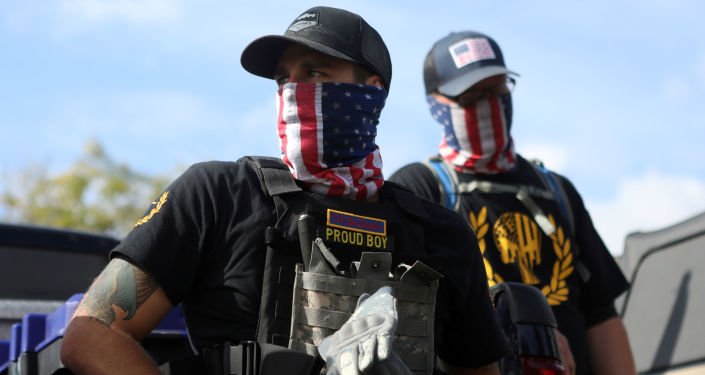 Fecal Material
All of the fecal material that Trump flourished in: the grievance culture, the paranoia, the misogyny, the deep dark racism , the anti-semitism, is all still there. Abolishing Parler and banishing Donald from Twitter doesn't make it all disappear. The rich and fertile compost of social media and a palpable sense of decline will only be boosted and amplified by Trump's humiliation.
It's definitely the right thing to do: to impeach and prosecute him – but the action will also feed the never-ending hunger of the far far right.
Writing in The Atlantic Caitlin Flanagan suggests that this isn't the end of Trump, it's the end of America ("Out of darkness we were born and into darkness we were returning"):
"If they were animated by any idea, it was that America had somehow gone off track. It had something to do with feminism. It had something to do with Obama-ism. It had something to do with "globalism" and "Marxism." In other words: It's the Jews again. Didn't Trump walk through a cloud of tear gas to hold up a Bible when it was all going down in Washington? Wasn't he the only one holding the line against the Jews and the Blacks and the satanic pedophiles trying to take over the country?"
As I said, there's good news and bad news.
The boil is being lanced but closer examination suggested the whole body is covered with them.
As I wrote back in November ('Trump Unmasked'): After four years of the most appalling venal and unproductive time in office – when Trump reeked havoc and openly flirted with white supremacy – he increased his vote and almost won. After fours years of rampant failure, he's expanded his base. Huge huge swathes of the American public voted actively for a quasi-fascist candidate in full-knowledge of what he is. That's not cause for any celebration. These people, that phenomenon, and the forces that propel them aren't going anywhere soon.
The idea that Biden could be labelled as a "socialist" and part of "Antifa" is so ridiculous it offers an insight into the complete collapse of political meaning in American public discourse.
If fascism, or pre-fascism lands in a country devastated by the covid crisis and about to encounter economic crisis like its never seen before, this might be the fertile grounds for more and worse of the same: Kdog's prediction of "MAGA as an extra-legal oppositional street force". But there is an alternative, that the opposition and progressive America that also exists finds its feet and its voice and manages to create an alternative reality, one based on reconstruction and a narrative of Make America Good Again.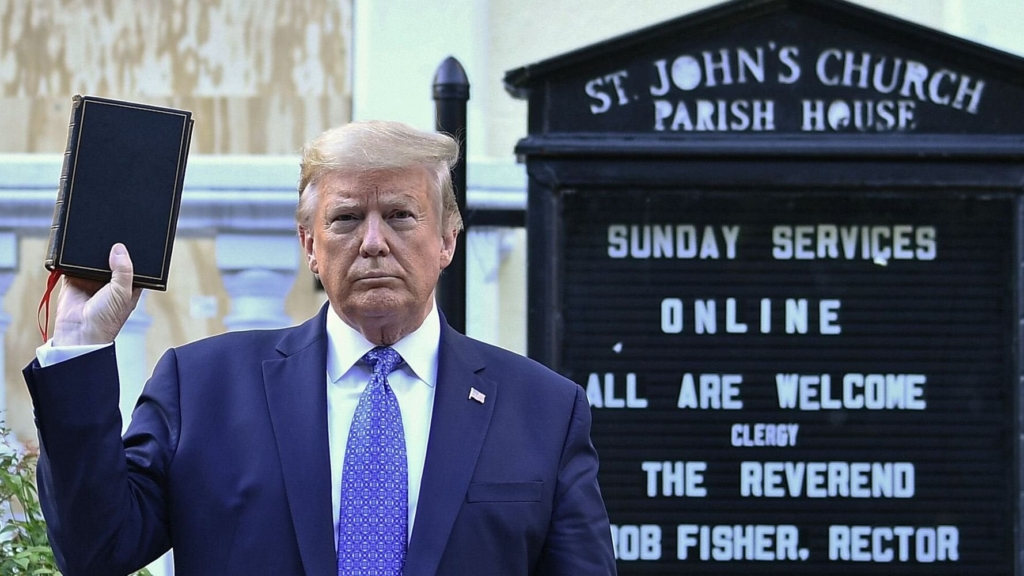 But this is a country born from and soaked in violence and the possibility of civil war, or at least heightened and ubiquitous violence by a movement removed and separate from mainstream politics is very very possible.
All of the festering ills of Trumpism are still here. The idea of Trump as Godzilla – who can soak up any energy and be empowered by it is derailed by his second impeachment. The argument becomes: "Can his movement still cohere and absorb that energy as a Super Powered Grievance Story: Trump as Christ, Trump as King Across the Water, Trump as the Real Winner?" Some of that may sound familiar to you.
Who knows? Things are so weird now anything's possible.
Is Trump more dangerous 'contained' within the GoggleBox of the Presidency where everyone can see him or let loose onto the world to play?
We're about to find out.