Deconstructing the Daily Mail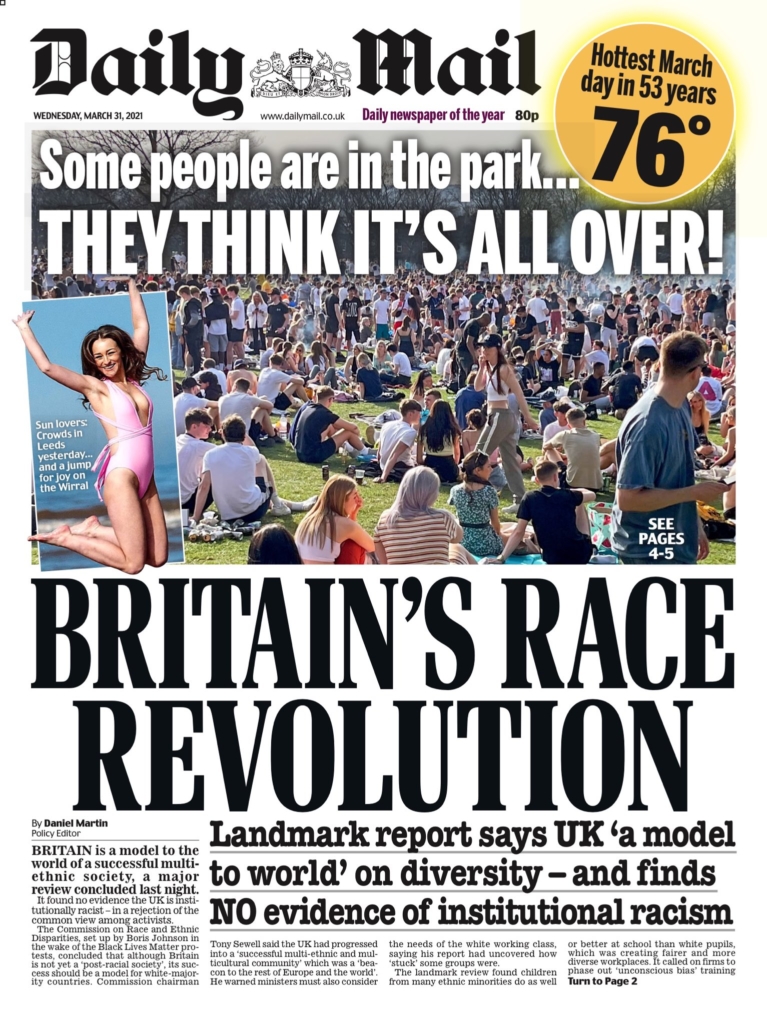 Sometimes it's difficult to articulate why we need a different media when so much of it is broken, owned and manipulative; full of poisoned values or gushing with moron culture, so thank you to the Daily Mail for encapsulating in one front page everything that is wrong with Britain today.
Breaking it down from the top right we have the graphic celebrating climate change "Hottest March Day in 53 years" (!)
The main visual is of course a 1966 World Cup reference – thrown in gratuitously but not sure whether to condemn or celebrate people being in the park – there's a hesitancy between the Mail's automatic condemnation of young people (hooligans) and random right-wing libertarianism – which is resistant to any collective action – and condemns any restriction on business as usual. Caught between their opposing instinctive toxic impulses they opted for both: blurting out an image that was vague enough to hint at both without committing to either – with a bikini-clad girl thrown into the mix for no particular reason. Alot of this works on a level where agendas are just hinted at – and the reader is so immersed in this reality that subliminal messaging glides over with remarkable ease.
But the main event was really gaslighting an entire society of people waking up to police brutality and endemic racism, rubbishing black lives matter and denying peoples lived reality.  Celebrating the UK as a "model to the world" is not just some astonishing denial it is triumphalism and propaganda in the context of the most repressive legislation and an assault on civil liberties from the Police, Crime, Sentencing and Courts Bill.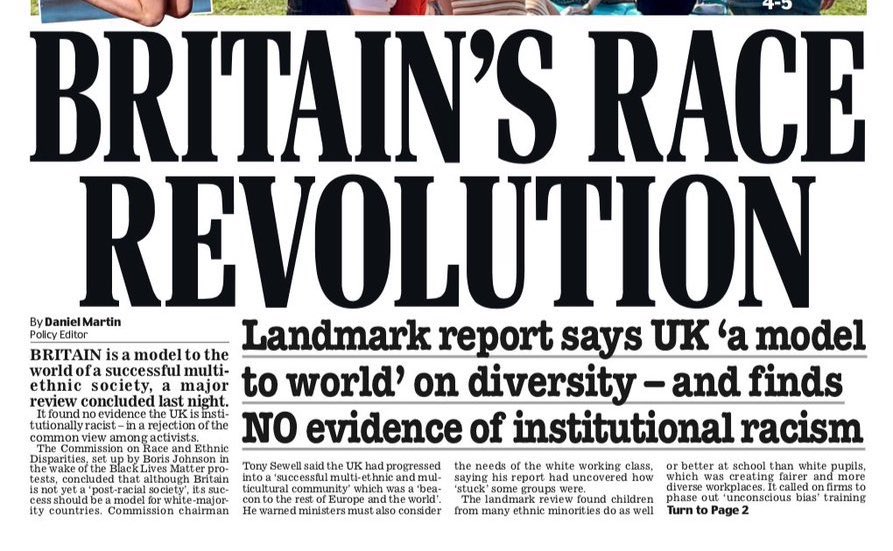 This week we were told that the police actions at the  Sarah Everard vigil was fine – now they're telling you that racism doesn't exist.
The tabloids frenzy of Hyper Unionism, British nationalism and denial is reaching new heights, as the police violence and intimidation does too. The stripping of a woman at a protest against sexual violence, the thuggery against a 16 year old boy, the assault on protestors in Bristol are all part of a new performative brutality – a new form of state violence and paramilitary policing. This violence needs to be framed and anyone showing resistance needs to be demonised and marginalised, this is the role and the function of the media like the Daily Mail.
Post-covid, post-Brexit Britain is a dangerous place, we need a new media to translate the dangers and to share the resistance.

We have a favour to ask.  Tens of thousands of people rely on Bella for independent journalism with a critical edge.  We have no big-backers, remain ad-free and don't hide behind a paywall. We set our own agenda and provide  analysis that's free from commercial and political influence. Support us here to defend indy media for the future. Thanks.
Go here to donate: https://www.crowdfunder.co.uk/backing-bella-2021