Bangers and Mash: Brexit and the Sausage Wars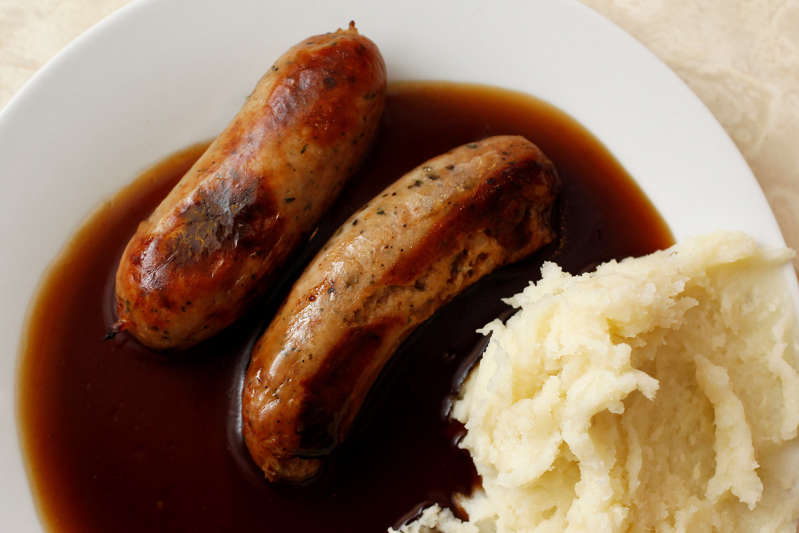 The gap between the grand rhetoric of Brexit with its sunlit uplands and Global Britain 'taking back control' and the fact that you can't, er, export sausages to a different part of the country, is quite large. As Gareth Southgate writes to fans to plead them not to boo their own players for being against racism ('Dear England'), the culture wars, as much as the sausage wars are in danger of consuming our southern neighbours. The level of hysteria included the Tory MP Brendan Clarke-Smith comparing the anti-racism act of players taking the knee gesture to footballers performing the Nazi salute during a 1938 match against Germany in Berlin.
As Biden flies in – all Irish Grandad – to the G7 he will look askance at Boris Johnson's inability to honour the Northern Irish Protocol that Britain and the EU signed up to. He's maybe not grasped what the rest of us twigged long ago, that Johnson has no integrity whatsoever and is 'leading us' on a tidal wave of corruption and nepotism 'sinking giggling into the sea'.

Of course the Northern Irish sausage wars won't magically go away, nor will the central contradictions of Brexit however much English politicians now try valiantly to lay all this blame at 'the EU' or however much loyalists in Northern Ireland fume and threaten. None of this matters. As I wrote last year: "Post-Brexit Britain will be dominated by a regime emboldened by its own "success" even if that success is pyrrhic useless and intangible – even if that success brings mayhem and misery – it will be celebrated with fanfare and jubilation as the imaginary enemy is vanquished."
But it's in Ireland, with July looming, that Boris's bumbling bonhomie may come unstuck.
As meticulously explained by Tom McTague in The Atlantic ('The Great British Humbling'):
"Here we are, then, back to the cretinous stupidity of the Brexit conundrum … The law is this: Because Britain is leaving the European Union's economic zone at the end of the year, an economic border must be erected with the EU—and borders must go somewhere. This reality cannot be escaped."
"The upshot is that Britain is now staring at a diplomatic defeat that would have seemed almost unimaginable just a few years ago. Since the Brexit referendum, the country has somehow contrived to negotiate an economic border within its own territory and the possible loss of all preferential trading rights with its largest market. For a long time, most observers had taken for granted that Britain would end up paying one of these prices for Brexit—but not both. The cherry on top of this diplomatic-failure sundae is that the U.K. will also have to pay billions of euros for the privilege of divorcing the EU."
But escaping reality is precisely what Johnson and his cohorts are all about. They can't get away from their addiction to false victimhood, whilst simultaneously claiming exceptionalism and superiority. This, particularly with regard to Ireland and the protocol debacle requires some contortion and mental gymnastics.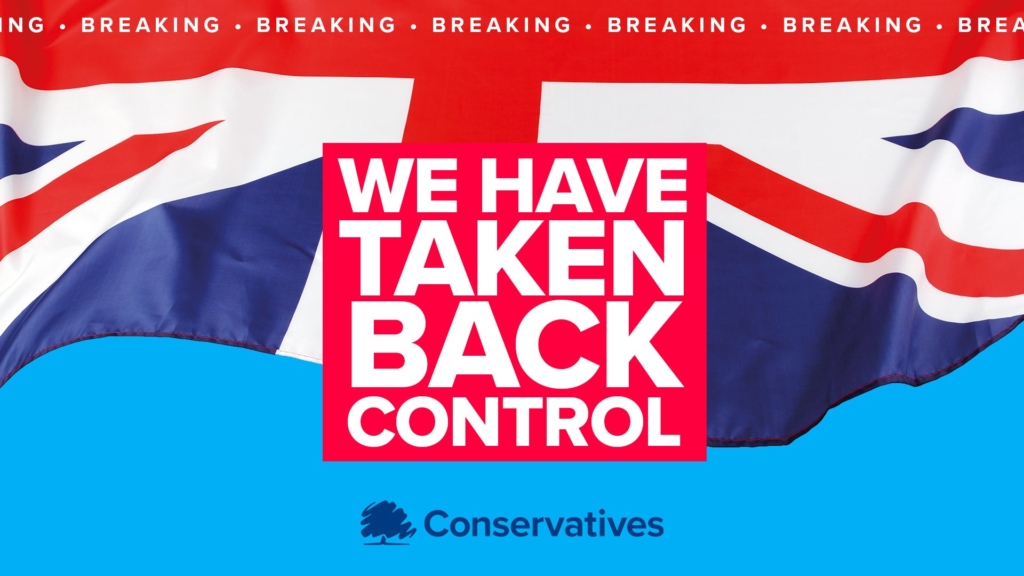 As Fintan O Toole pointed out last year:
"England is emerging, not from its own empire, but from an imaginary empire of the EU. And (with a certain comic magnificence) the nearest example of this process to hand is Ireland's struggle for independence from the UK. Hence the Brexiteer Sir Bernard Jenkin explaining on BBC's Newsnight last week why it was okay to renege on the withdrawal treaty: "The deal leaving the EU is a one-off exceptional treaty – it's like an independent country leaving an empire."
This bizarre mental construct of England-as-Ireland leads to the adoption, in the minds of English nationalists, of the Michael Collins model – sign the damn treaty and then you can change it afterwards. The withdrawal treaty, like the Anglo-Irish treaty of 1921, is not a terminus but a springboard.
Secondly, the big reason why English nationalism cannot articulate itself is that it cannot admit to its own most obvious consequence: the break-up of the UK. Toryism is supposed to be conservative and unionist, but it has become (in objective effect) radically anti-union. It is pushing through the most extreme possible version of a Brexit that both Scotland and Northern Ireland rejected.
But since this cannot be admitted, the blame for the consequences must be displaced. These people, of course, have a lot of practice at shifting the blame for their own failings on to their favourite scapegoat: the EU. Thus, it is not English nationalism that is wrecking the union. It is those damned foreigners."
For all of this we need distractions (and lots of them). So we have the Prince and the Princess. So we have the big football competition. So we have the culture wars. This all needs curated and the curators are Munira Mirza and Douglas Smith.
We've detailed Munira Mirza's extraordinary backstory here.  She remains one of Johnson's human-shields, particularly about race and his racism. She famously defended the prime minister two years ago when he was criticised for an article suggesting burqa-wearing women resembled "bank robbers" or "letterboxes", calling the reaction to his comments "hysteria".
She said he had not used "clever words" to cloak his meaning, as many politicians did, but "he said what he believed, and in doing so, expressed what many people – including crucially, many Muslim women – believe".
Johnson used similar language during his leadership campaign a year later, defending his tendency to ruffle feathers. "Too often we are muffling and veiling our language, not speaking as we find; covering everything up in bureaucratic platitudes, when what they want to hear is what we really think," he said.
Johnson infamously appointed her to to lead a commission on racial equality despite her having railed against multiculturalism and denied that institutional racism existed. As Matthew D'Ancona has described them over at Tortoise:
"Munira Mirza began her political journey on the far Left, in the milieu of the Revolutionary Communist Party. Douglas Smith started as a firebrand of the hard libertarian Right in the now defunct Federation of Conservative Students. Yet Brexit and the patronage of Boris Johnson have brought them together to Number Ten and positions of great authority. And their shared interests in culture wars – the battles over identity, heritage and who runs culture-defining institutions – means that they are set to be even more influential in the PM's plans for political strategy after the pandemic. It's a case study in the morphing landscape of networked, digitised, populist politics, and the speed with which, in the 2020s, individuals who would previously have been seen as intriguing outliers or fringe figures can end up at the very heart of power."
Dougie Smith had been a senior figure in the far-right Federation of Conservative Students – a member of its libertarian Right faction and is described as "deeply devoted to the Orangemen of Northern Ireland and the Unionist cause". He worked previously for David Hart, the property tycoon who had, years before advised Margaret Thatcher during the Miners' Strike, helping to recruit and fund a gang of scabs to break the Miners' Strike. This is all background.
When Boris Johnson refuses to condemn the fans booing the England team, when he defends Ollie Robinson's racist tweets, all of this is straight out of the 'war on woke' playbook.
The enemy combatants in the 'war' are wide-ranging. Johnson, Mirza and Smith have in their sights: "liberals", Black Lives Matter, Extinction Rebellion, the BBC, "liberal elites" the "metropolitan elites" and the "media elites", teachers, young people, "Europe",  illegal immigrants, recalcitrant Jocks, the Irish (see previous), Remoaners, attackers of statues and "heritage", judges, lawyers, the list goes on (and on).
If it all seems a bit mad (it surely is) it's attractive for many reasons, not least of all it's a huge distraction from the unfortunate business of cronyism, corruption and death on an unimaginable scale. But beyond this Professor Tim Bale has argued that "Boris Johnson could win a 'war on woke': " …some kind of culture war, however damaging and polarising some fear it would be, is arguably a perfectly rational strategic choice for the Conservatives in the years to come. It would build on — but, just as crucially now that Brexit is nearly done, allow them to build out of — the Leave-Remain identities established, to their obvious recent advantage, since 2016."
Post-Brexit, mid-pandemic, England is at war with itself. This internal displacement activity is a clever ruse for Johnson's clever advisors but it's not a long-game. Johnson was famously defeated by Marcus Rashford on school meals and has a formidable opponent in Gareth Southgate, an implacably decent English manager.
And it all does get a bit silly. As we attempt to recover from this monumental ordeal, and we weave constitutional crisis with and health and economic emergency will the trivia of reactionary memes and messaging not just seem deeply inappropriate? And is their instinct to speak to and inflame England's most reactionary elements right? How hegemonic is this narrative? We're about to see.
All of this plays out on a sea of social devastation and ongoing constitutional crisis. On the farce of William and Kate "saving the union" the writer Alex Massie notes fantastically ('If you want to save the Union, shut up about it'): "Once again, unionism's strength lies in quietness and peacefulness and the steady accumulation of national prosperity."
That's some unfortunate analysis as its revealed that 70,000 households in the UK were made homeless during the pandemic and the emerging social carnage that lies just beneath the surface of contemporary Britain comes to the fore.
Look around you and you might be dismayed at your racist Prime Minister you didn't elect, you might be fearful for the future, but how many of us are looking around basking in the "peacefulness and the steady accumulation of national prosperity" of Britain in 2021?