No Deal and a National Front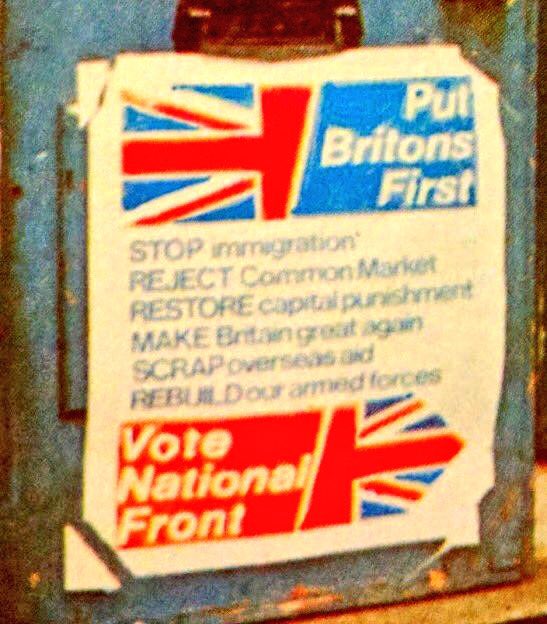 The extent to which the politics of the National Front in the 1970s and the politics of Priti Patel's Tory party mirror each other is chilling. The historic latent and barely concealed racism of the Conservative Party has morphed into a new far-right populism feeding off discontent with the political classes and tapping into an unedifying strain of English political culture that draws on eugenics, superiorism, and neo-colonial exceptionalism. It's an outlook that's as hard and bitter as it is detached from reality. All of this has propelled us to this moment when we will, finally, be ejected from the European Union.
STOP Immigration
REJECT Common Market
RESTORE Capital Punishment
MAKE Britain great again
SCRAP overseas aid
REBUILD our armed forces
It can be seen everywhere: boosted, normalised and confirmed by the Brexit process, spiraling beyond the Tory Party and manifesting itself in Farage's omnipresence, in the media language and framing and in the ink off a million red-top front pages.
If the collapse of colonial rule in the 1960s propelled AK Chesterton and others to form the National Front, the perceived decline of British status, the "threat" of multiculturalism and opposition to organised trade unionism consolidated the far-right in the 1970s. In the same fashion the decline in England's perceived status at the beginning of the 21 Century has resulted in a spasm of resentment (gleefully exploited by elite forces) and resulted in the mindless grievance-driven fiasco of Brexit. The sense of loss of "far-colonies" back then is mirrored in the sense of loss of "near colonies" right now, and all are played out in the proprietorial language of confused hubris. If the 70s far-right was fueled and emboldened by a Windrush generation – our own are heartened by their departure. If the far-right of the 70s were street fascists our own hold the highest offices of the land.
None of this is new. In 2016 I wrote: "The stench of fascism has been accommodated and explained for years in Britain. It was hinted at by Tebbit and we've been on a slippery descent ever since, from militarised police to militarised schools to extraordinary rendition to pleading for our soldiers to be above the law."
The descent is smooth and the message is more subtly made, but from Martin Webster to Richard Tyce, from John Tyndall to George Farmer, from Spearhead to Spiked, the same message of exceptionalism and populism is present. As I said in the summer Britain seems to be enthralled to a new psychosis. The descent (of standards in public office, of decency in the media, in the quality of public discourse) seems endless. In June London was filled with the spitting pissing fury of English fascism in full boom. Falling downwards, hurtling backwards.
The echoes of the summer are here. Nigel Farage is on TalkRadio foaming at the mouth about Black Lives Matter being a Marxist organisation. The black writer Afua Hirsch being told by Nick Ferrari on television she should "leave the country" if she doesn't like it here. Her destination wasn't specified. Richard Littlejohn dips his poison-pen in the Mail and talks of "mobs roaming the country"  and "Everywhere, madness is in the air …You'd never think that six short months ago we elected a Conservative Government with an 80-seat majority. It feels as if we're living in a Left-wing dictatorship." TV presenter Neil Oliver joined the happy idiot-throng opining that Black Lives Matter protests were really: "An attempt by anarchists and communists to eat into the built fabric of Britain and thereby bring down British society."
How did the politics of the far-right and in some cases actual fascism become acceptable in western democracies?
Political commentator Chris Hedges argues that: "Lower-class whites are embracing an American fascism. These Americans want a kind of freedom—a freedom to hate…. they want the freedom to revel in hypermasculinity, racism, sexism and white patriarchy. These are the core sentiments of fascism. These sentiments are engendered by the collapse of the liberal state."
So much history – but the here and now is worse.
Scores of vulnerable asylum seekers, including suspected victims of trafficking, are scheduled to be deported this week as the home secretary Priti Patel ramps up removal operations ahead of Brexit.
Sarah Teather, director of the Jesuit Refugee Service UK (an international Catholic group that operates inside Heathrow immigration detention centres) said: "Under cover of Covid and the rush for Brexit, the government are subjecting survivors of trafficking and torture to brutal treatment. Skipping sections of your own due process to avoid listening to details of trafficking that would require a more careful approach to the person in front of you is staggeringly cynical." The JRS is currently supporting 11 men who recently crossed the Channel in small boats and who have experienced trafficking, forced labour and torture on their journey to the UK.
Patel's Home Office is attempting to gag charity workers and community volunteers with a confidentiality agreement, following reports of dire conditions at the sites of army barracks in Kent and Pembrokeshire, which between them are holding more than 600 men seeking asylum.
Heroic Failure
You're not allowed to call this out for what it really is.
As Ajay Singh Chaudhary, writes (Left-Wing Hypomania):
"Trump's neofascism certainly has a family resemblance with all the wide variety of neofascisms the world over—from India to Brazil to all across Europe. The denial of this seems more like yet another, boring, inaccurate, fantastical American exceptionalism. There are plenty of alternatives, all bad. Fascism, like our more modern mode of capitalist-crisis government, neoliberalism, is mostly the stuff these politics are made of. Sometimes, as with the Nazis, it's racial eliminationism that is the secret sauce. Sometimes, as with Franco, it's Catholicism. Sometimes, it's anticolonial writers noticing that fascism is just colonialism swung back around, or indigenous observers wondering how much of that is new in the first place. With Trumpism, as is becoming increasingly clear, it's a heady brew of nativism, patriarchy, and Christian revivalism."
"Fascism can begin with large numbers, or it can be imposed from above, as with Pinochet. I recently learned that Black Panthers and other American political prisoners called U.S. society "late fascism" to mirror "late capitalism." Modi's India seems closest to the classic model, but it arose not against a rising left but organic crises of capital and legitimation crises of governance. Trumpism is just an expression of this in the United States. And it's not going away. Trump was not uniquely fascist; America already tended fascist. Why, in that context and within this global family, should I avoid the neofascist appellation? Do I have to count the exact rate of hysterectomies in camps, the number of Proud Boys and sympathetic police, or, for that matter, pre-Trump detention and extrajudicial murder, or the body count of the unending Global War on Terror? Do I have to demonstrate the uniquely similar economics? Almost all sides in this debate seem to miss that no matter the angle of approach—political economy, law, movements, ideology, aesthetics, culture—fascism is an ordinary state of affairs for modern capitalist societies: as latent possibility, as "preventive counter-revolution," or as the exception that is always the rule. It's baked in the cake and certainly as American as apple pie. Fascism and liberalism are not antinomies; they too can toggle back and forth. Capital, for the moment, seems content with either option."
If Chaudhary's take on Trump's neofascism tells us "fascism can begin with large numbers, or it can be imposed from above", with Johnson and Patel's version Brexit Britain is presented as a revolt and ends with a de-regulated shambles venerating bigotry and championing exclusion.
The resentment of national humiliation is now being played out by self-inflicted national self-humiliation as England eats itself in an orgy of ridiculousness – and all for an aim that nobody really understands. Except we do. It's just racism.
The only thing that has changed is that the Union Jack has been replaced with the St George's Cross as all the National Front's dreams come true.
But the re-emergence of colonialism in early 21 Century Britain has a new twist. In Brexitland – as Fintan O'Toole has it: "the myths of suffering and endurance covered up the truth that it was mostly other people who had to endure the suffering."
In England's case adopting the idea of heroic failure is "an exercise in transference", the coloniser now imagines itself as the colonised, with serious implications for those actually living in the 'hostile environment':
"The old empire appropriates the pain of the subject peoples and then transfers the guilt of invasion and colonisation to the immigrant."
In this moment we are riddled with double-speak: Anglo-Britain is the victim of an imagined enemy. As Johnson plays Churchill "liberation" will mean persecution, "Global Britain" will mean isolation and an attack on 'foreigners', wherever they may be.